Sunrise Tours Launches Special Tours Celebrating 60th Anniversary
2023.10.25
The Sunrise Tours package tour brand geared for international visitors operated by JTB Global Marketing & Travel will be celebrating its 60th anniversary in 2024.
Since the ban on independent international travelers to Japan has been lifted in October of last year, Sunrise Tours bookings have steadily increased as Japan-bound tourism proceeds on its full-scale recovery. While there are concerns about overtourism in some areas, we at Sunrise Tours continue to create new tourism routes offering opportunities for the Japan-bound market to experience the many charms of Japan's various regions, as well as take initiatives in solving this social issue.
As special tours to celebrate 60 years of Sunrise Tours, we are launching a tour featuring an itinerary based on one from 1964 when operation began, as well as a day-trip mystery tour.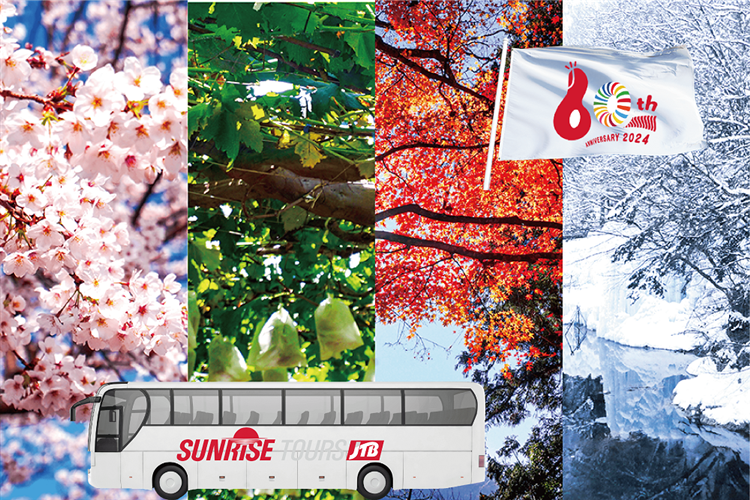 2024 Sunrise Tours 60th Anniversary Logo
The logo expresses our 60-year history and commitment to sustainable tourism.

60th Anniversary special video: https://youtu.be/6bbT0_yY3RY
60th Anniversary special page: https://www.jtbgmt.com/en/g-web/60th-en

■Sunrise Tours' 60-Year Journey
Sunrise Tours began as a tour brand offering package tours visiting various areas of Japan in 1964, the year the 18th Olympic Games were held in Tokyo. Since then, it became the leading brand for package tours for international travelers to Japan. Adopting a logo reminiscent of an Aztec sun god in 1967, Sunrise Tours propelled forward and expanded its sales network throughout the world.

■60th Anniversary Celebration Tour Highlights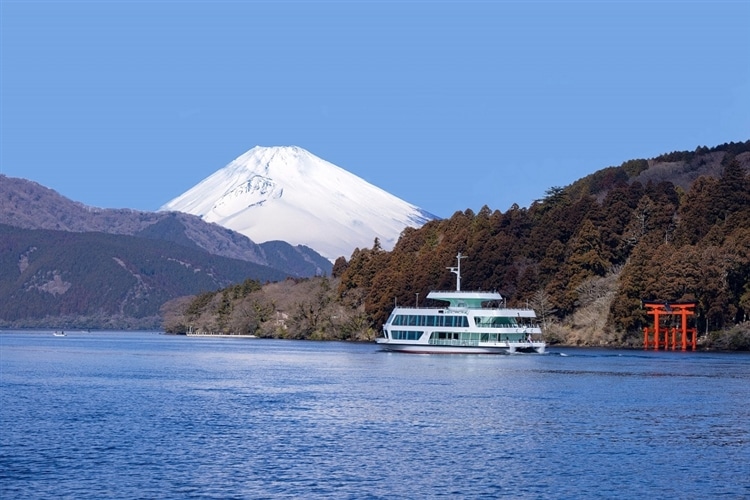 1. Tour from 1964 Revamped and Relaunched
When Sunrise Tours began operating in 1964, this tour had a 10-day itinerary that included the popular sightseeing spots of Tokyo, Nikko, Hakone, Kyoto, and Nara, as well as Kurashiki and Takamatsu in the Seto Inland Sea area.
Based on the itinerary from 60 years ago, this tour lets visitors further experience the charm, history, and culture of Seto Naikai, the beautiful inland sea region. The tour also visits places that have been gaining popularity such as Kanazawa for its historical atmosphere as well as Shirakawago and Takayama for their rural Japanese landscape.

2. Mystery Tour: Discovering Japan's Hidden Delights
On this tour featuring the themes of scenic spot, seasonal beauty, and fruits, visit the must-see spots of the season in the suburbs of the Kanto region that are not well known among international visitors. And as this is a mystery tour where destinations aren't revealed ahead of time, tour participants can feel the excitement as they imagine what the destinations could be and what new charms of Japan and surprise encounters await them.

Facing the next decade, Sunrise Tours will continue to journey together with everyone to become a bridge between local regions and international travelers visiting Japan from all over the world and creating further opportunities for interaction in Japan-bound tourism.