Message from President and CEO
Learn from the Past, Create the Future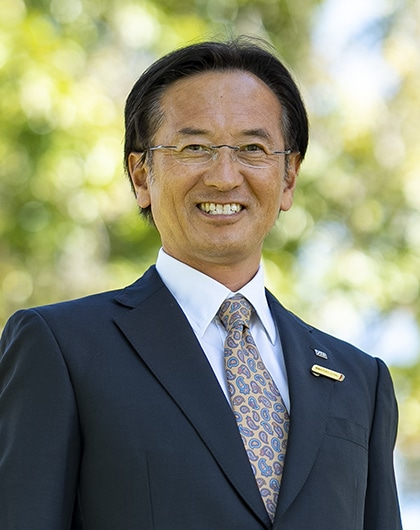 110 years of experience with the aim of attracting all the incoming visitors to Japan, we as JTB Global Marketing & Travel (JTBGMT), have been dedicating our heartfelt welcoming services as Japan's leading Destination Management Company (DMC) over the decades. Thanks to our long history and our unique position as the only company specialized in inbound travel among the JTB Group, it gives us a great pleasure to convey all the accumulated experience as Japan specialists during many years to many of our valued customers and business partners throughout the world.
After the pandemic, the inbound tourism in Japan has been tremendously improving to be stated as one of the most favorable destination country and the number of foreign tourists visiting Japan is increasing rapidly. This situation gives us more opportunity to showcase our acclaimed hospitality, so called "OMOTENASHI" in Japanese, by providing the highest service quality based on our extensive experience in welcoming overseas visitors.
However, the preference to indulge taste of Japan has been changing and diversifying rapidly depending on source market, generation and of course individuality.
According to recent global observations, the main trends among inbound tourism in Japan are shifting. New traveling behaviors are appearing too, for instance the emergence of repeating customers not only interested into the major sightseeing spots but also into the hidden delights Japan can offer. Customers are also looking for freer and easier ways to travel.
We, as JTBGMT, shall respond to this increasingly unpredictable and ever changing inbound tourism by focusing rather on creating new knowledge in inbound tourism by exchanging ideas with our valued business partners globally and in Japan as well. As a consequence, we will continue to be the best solution provider through our proposition in all sectors including individual/group travel, online reservation systems, MICE (Meetings, Incentives, Conferences and Events), shore excursion tours, and educational travel as No.1 DMC in Japan.
Creating DMC value for tomorrow.
The lengthy Win & Win relationship we have built globally over the past years with our full commitment to sustainable tourism towards the future, shall leverage us up to the next level and enables us to contribute more to valued business partners.
We look forward to keep on invigorating Japan inbound through our "Worldwide Partnership".


President & CEO
JTB Global Marketing & Travel
Tsuneo "Tony" Ishida