Exploring Akan & Shiretoko in Winter - Drift Ice Walking, Snowshoe Hiking, Cycling on Ice & Ainu Culture Walks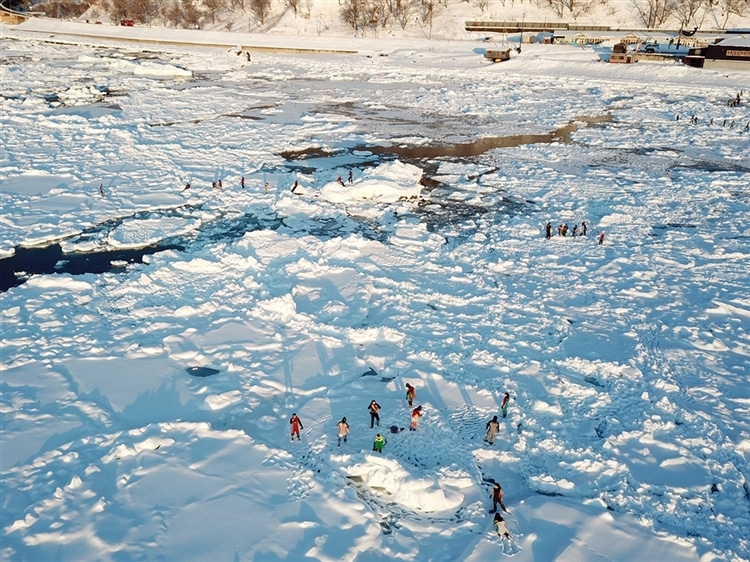 Drift Ice Walk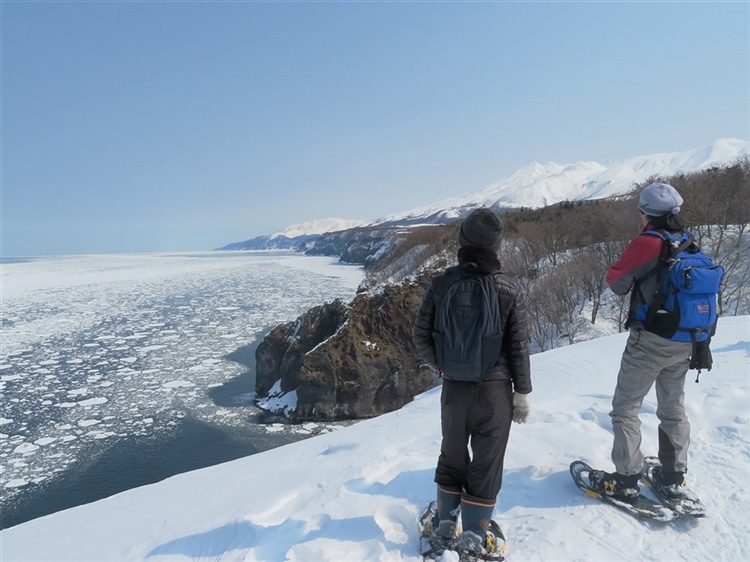 Snowshoe
---
Experience outdoor activities unique to winter in the two national parks of Shiretoko and Akan Mashu.From the Shiretoko mountain range and Mashu and Kussharo calderas to the volcanoes of Akan, discover the breathtaking scenery of eastern Hokkaido.

The highlight of your time in Shiretoko National Park is the drift ice, which appears along the Shiretoko coast in January each year having made its way from the mouth of the Amur River some 1,000 kilometers away. Wear snowshoes and hike through the Shiretoko forest to an observation point to see the drift ice. Next, head down to the sea for the extraordinary experience of walking on and floating among the drift ice.

Shiretoko's unique ecosystem, which covers both sea and land and relies on the drift ice for its biodiversity, was recognized in 2005 when it was registered as a World Natural Heritage Site. On this trip, observe the drift ice from land and sea and experience it with your entire body. At the same time, gain a deeper understanding of Shiretoko wildlife and its natural habitat.

Akan Mashu National Park is a stunning landscape of forests and lakes that boasts Japan's largest area of volcanic topography. With the powerful presence of the Meakan and Oakan mountains and the magnificence of Lake Akan, there is no better place to experience Hokkaido's natural diversity than Shiretoko.

Onneto, a small lake with a peculiar shimmer that attracts curious tourists throughout the summer, is closed off by deep snow in the winter. However, equipped with snowshoes, you can make your way into the primeval forest to enjoy the vivid contrast between the evergreen leaves and the white snow. From the frozen surface of Lake Onneto bask in the magnificent views of Mount Meakan and Mount Akan-Fuji shimmering silver in the crisp air.

Cycling on the frozen expanse of Lake Akan with a fat bike equipped with special tires is an activity unique to this season and this location.
Moreover, walking with guides from the local Ainu population through forests that Japan's indigenous people have long cherished is an invaluable experience and one that brings you closer to the Ainu philosophy of living in harmony with nature.
---
Date

Schedule

Accommodation
Day 1

Arrive at Memanbetsu Airpot
Visit the Hokkaido Museum of Northern People
Day 2

Hike through the natural landscape of Shiretoko, a World Natural Heritage Site
Drift Ice Walk

Hotel in
Shiretoko

Day 3

Hike through the Shiretoko forest in snowshoes and observe the drift ice from the land

Day 4

Walk in snowshoes to Lake Onneto with a local guide
Cycle on frozen Lake Akan with a fat bike

Day 5

Discover the winter forest with Ainu,
who have long lived in harmony with nature
Day 6

-