Hot Tourist Spots in Tohoku!
When thinking about travelling to Japan, Tokyo and Kyoto may be the first cities that spring to mind, but the Tohoku region is gradually drawing attention mostly from individual travelers as a new tourist area. This newsletter will introduce Tohoku's major tourist attractions, from what is said to be Japan's biggest cherry blossom festival to a World Heritage Site that attracts people from around the world and a national park colored with flowers all year round. The prefectures of Aomori, Iwate, and Miyagi, in which these sites are located respectively, are adjacent to each other and connected by the JR Tohoku Shinkansen, making them easy to put into round tour plans be it for individuals or for groups.
Whenever you're unsure where to go, go to Tohoku! Be among the first to explore a less well-known side of Japan!
HIROSAKI PARK & HIROSAKI CASTLE (Aomori Prefecture)
Located in the center of the city of Hirosaki, Hirosaki Park is a vast park covering 492,000 square meters. Within the park is Hirosaki Castle, one of the rare works of architecture in Japan that have maintained their appearances since construction in the Edo Period. The castle tower, turrets, and gates remain as they were back then, and seldom in the country can you find a castle of this size remaining intact as a historical site and open to the public as a park. Another attraction of the park is its cherry blossoms, encompassing a total of 2,600 trees from 52 species, which come into bloom from late April to early May and have become synonymous with Hirosaki. It is during this period that the Hirosaki Cherry Blossom Festival, said to be Japan's biggest festival of this sort, is held, attracting many tourists from both inside and outside Japan.

●Best Time for Cherry Blossoms
Late April – early May

●Access
From Haneda Airport to Aomori Airport・・・1 hour 15 minutes by plane
From Aomori Airport to Hirosaki・・・1 hour by bus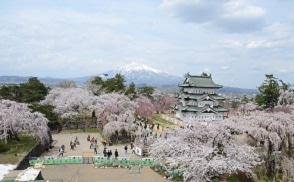 Hirosaki Park & Castle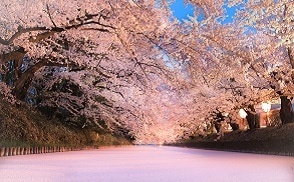 Hanaikada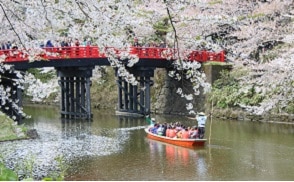 Nakabori
THE WORLD HERITAGE, "CHUSON-JI TEMPLE" (Iwate Prefecture)
Chuson-ji Temple is one of the five sites composing the World Heritage Site of Hiraizumi and is said to have opened in 850. The Konjikido, a national treasure, was completed in 1124 and has maintained its appearance since then, conveying to us the way Chuson-ji looked in its early years. Of the many buildings of Chuson-ji, this hall, which is dedicated to Amitabha, is the most elaborate. It is pressed in gold both within and without, and it brings together the best of late Heian period craft such as the usage of turban shell inlays, which have been brought from the seas of the Southern Hemisphere via the Silk Road; openwork metal fittings; and gold lacquer paintings.

●Access
From Tokyo Station to Ichinoseki Station・・・2 hours 20 minutes by JR Tohoku Shinkansen
From Ichinoseki Station to Hiraizumi Station・・・10 minutes by JR Tohoku Line
From Hiraizumi Station to Chuson-ji Temple・・・25 minutes on foot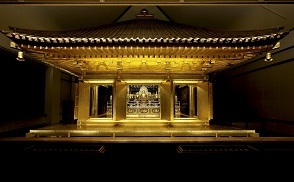 Ⓒchusonji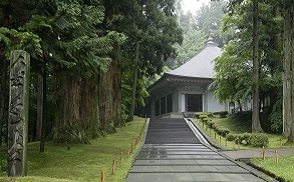 Ⓒchusonji
MICHINOKU PARK (Miyagi Prefecture)
Located by Lake Kamafusa, Michinoku Lakewood National Government Park is one of Tohoku's largest national parks. Here, you can enjoy many flowers all year round, be it tulips and pansies in spring; marigolds and salvias in summer; poppies with Mount Zao in the backdrop in early summer; or cosmoses from summer to autumn. There are many hot spring resorts nearby such as Akiu, Aone, Togatta, and Sakunami, and since it is located between the cities of Sendai and Yamagata, it is easy to incorporate into tour routes, making it a popular spot among those in the know. There is also a campsite with a natural hot spring within the park, making it suitable for outdoor experiences.

●Best Time for Flowers
Various flowers can be enjoyed throughout the year.

●Events
- Spring
You can enjoy the blooming relay of rape blossoms, daffodils, tulips, and cherry blossoms that starts in late March.
- Autumn
Kochiakari, an illumination show in which kochias (summer cypresses) are lit up, will be held.
- Winter
・A Christmastime illumination show will be held.
・ The annual Snow Huts Festival, featuring snow huts and sleigh rides on a ski slope, will be held from late January to early February

●Access
From Tokyo Station to Sendai Station・・・1 hour 30 minutes- 2 hours by JR Tohoku Shinkansen
From Sendai Station or Sendai Airport to Michinoku Lakewood National Government Park・・・1 hour by bus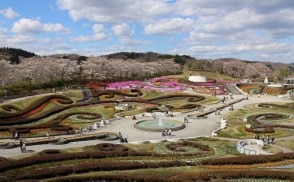 Ⓒ2007 Michinoku Park. All rights reserved.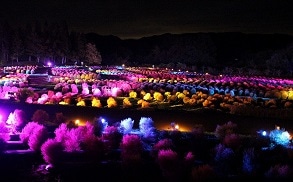 Ⓒ2007 Michinoku Park. All rights reserved.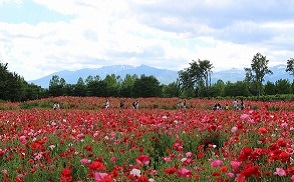 Ⓒ2007 Michinoku Park. All rights reserved.
For more information, please get in touch