Travelife Certified Sustainability Award for JTBGMT!
2022.04.01
Travelife Certified Sustainability Award for JTB Global Marketing & Travel Inc.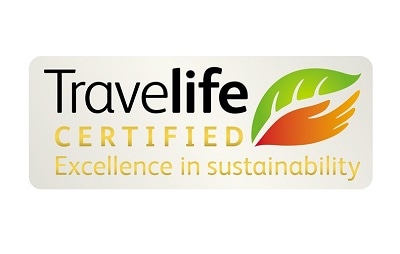 JTB Global Marketing & Travel Inc. received the Travelife Certified award on Mar.22,2022. The award is a recognition for the long-term efforts and sustainability and corporate social responsibility leadership JTBGMT has demonstrated.

JTBGMT is in compliance with more than 200 criteria relating to a tour operators' sustainability practices in office management, product range, international business partners and customer information. The Travelife standard covers the ISO 26000 Corporate Social Responsibility themes, including environment, biodiversity, human rights and labour relations; and is formally recognised as in full compliance with the UN-supported Global Sustainable Tourism Council (GSTC) Criteria .

Travelife is a three-stage certification program for tour operators and travel agents:
(1) Travelife Engaged; (2) Travelife Partner and (3)Travelife Certified.
JTBGMT is among the 2 companies in Japan to have achieved the Travelife Certified award.

As a Travelife Certified tour operator, JTBGMT will continue to pursue the realization of sustainability in tourism and to create connections between international visitors and our destinations. We are also committed to providing solutions for the promotion of SDGs within the Japanese tourism industry at large.

Mr. Naut Kusters, General Manager of Travelife for Tour Operators stated,
"I am delighted to see that sustainability in the tour operators sector is gaining momentum. The award of the trailblazer JTBGMT will inspire other companies in Japan to follow the same path."

Mr. Shinya "Billy" Kurosawa, President and CEO of JTBGMT commented,
"We are honored to receive the Travelife Certified award. Considering the immense effect which tourism has upon the environment, culture, and social economy on a global level, we recognize that as the leading company in the Japanese inbound travel industry it is indispensable for us to push forth sustainable tourism within our country as well. We take this opportunity to accelerate our actions towards sustainable tourism with the help and cooperation of our partners within our industry and to further contribute to the development of tourism with SDGs in focus."

Travelife is the leading international sustainability certification for the travel sector. More than 40 national travel associations are promoting the scheme to their members, including 20 European Travel associations and The Pacific Asia Travel Association (PATA). Since 2012, more than 1,500 tour operators have been trained in CSR and more than 500 tour operators have received a Travelife award.