Ryokan Experience
Matsunomidori

City:Ishikawa / Area:Wakura Onsen, Nanao
Kagaya has won the highest honor as a synonym for Japanese style ryokan for many years. Many Japanese wish to go once in a lifetime. "Matsunomidori" is a special in that Kagaya newly built in 2015. This place is not limited to places to stay but it is also an "art museum". Ishikawa prefecture specialty Wajima lacquer-ware, Kutani pottery, Kaga Yuzen etc. are beatifully displayed.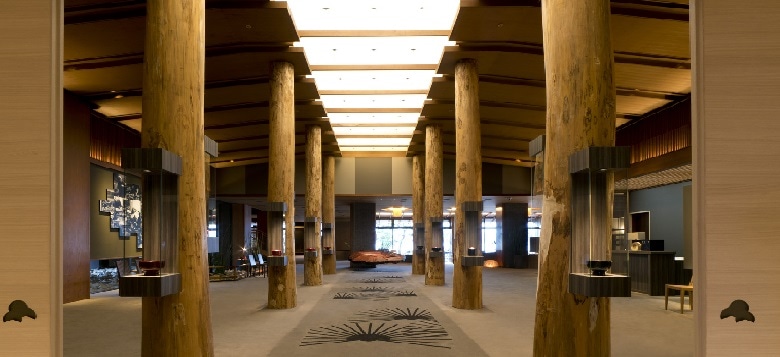 ---
"Kagaya Matsunomidori" is located in Wakura Onsen where in the Noto Peninsula. Kagaya's onsen is the so-called saline spring, nicknamed "longevity bath". In Wakura Onsen you can meet the charm of Ishikawa Prefecture completely different from famous sightseeing place Kanazawa city. It is just 50 minute by JR Express train. In particular, we recommend the tourist train "Hanayome Noren" (bride goodwill), the concept of "hospitality of harmony and beauty", the design of the exterior is the image of Wakajima lacquer-ware and Kaga Yuzen which are the traditional crafts of Hokuriku. The interior expresses the design of Wakajima lacquer-ware that is traditionally used. The train makes you feel full of Hokuriku's harmony and beauty throughout the car and you can fully enjoy it.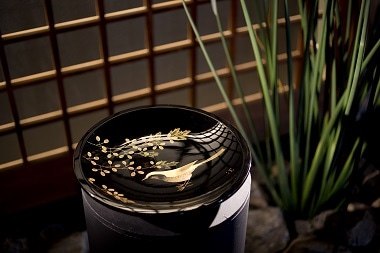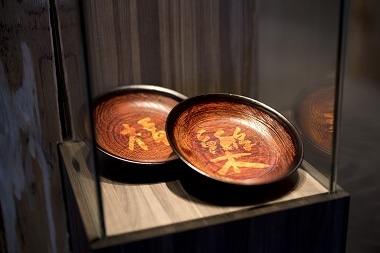 The inside of the hall is wrapped in an aroma of fragrant wood and you can experience a deep relaxation that makes you feel like a home. You are also healed by the view of the calm Nanao Bay. All rooms have an ocean view and it is an all-inclusive accommodation.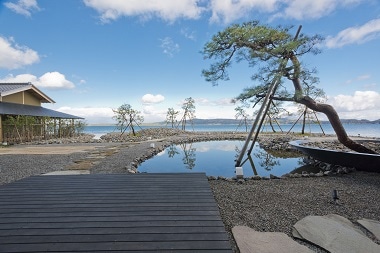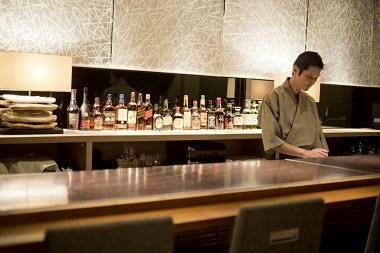 ---
What we should mention is that anyone can experience a full-fledged tea ceremony. The tea room was built facing the sea at the garden of the inn in the late Edo period which has a 150 years history. Please make a reservation between 14:00 and 18:00 at check-in. In the afternoon, the experience of the tea ceremony while looking at the peaceful ocean will be a relaxing moment.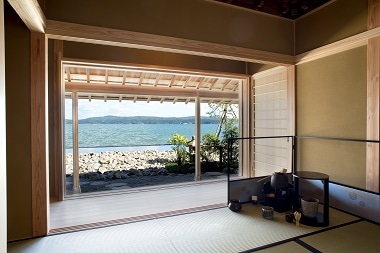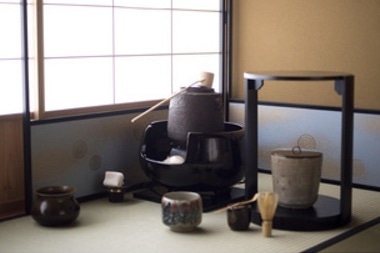 In Matsunomidori, the bath is also facing the calm ocean. The female bath is designed to feel like being integrated with the sea. The male bath will feel like being in the garden.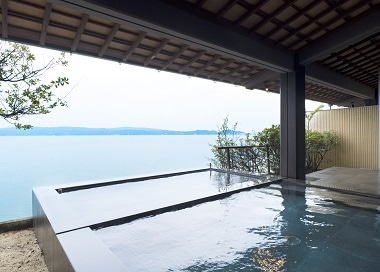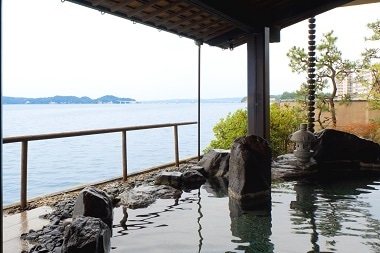 Special hospitality is prepared after bathing. Please have a drink beer, milk, local ice cream for a quick refresher at a garden-like salon surrounded by planting.
Traditional craft items are also placed in the salon and you can taste intellectual and relaxed atmosphere.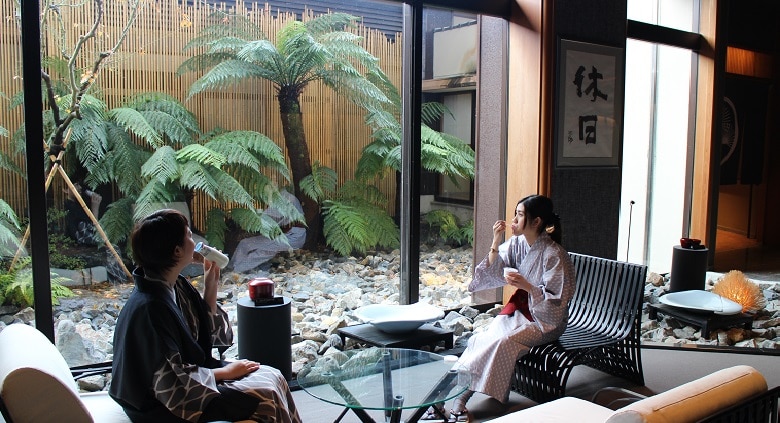 ---
Dinner is a full-fledged kaiseki cuisine. The dinner is delicious, but it is worth noting that all dishes are using works of art level. It can be said that it is the extreme of luxury that many beautiful dishes made with ingredients of Ishikawa prefecture, including the fishes of the sea of the Noto Peninsula, are served by Kutani ware and Wajima paint vessels.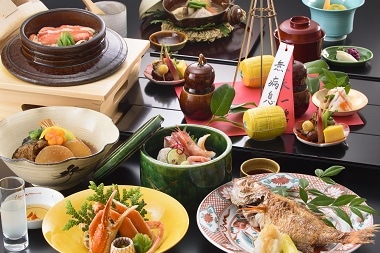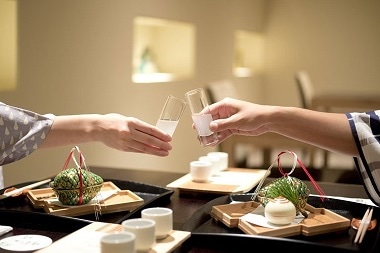 The room is tatami flooring widely. Simple and elegant coexist, symbolizing Japanese beauty. Equipment is substantial. The room is equipped with large screen TV, audio equipment, as well as stick tea of Ishikawa specialty. You can feel relax like at home.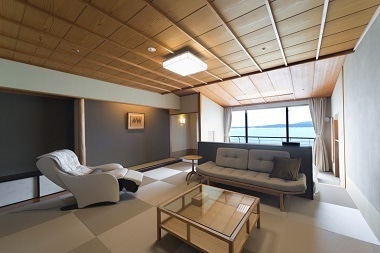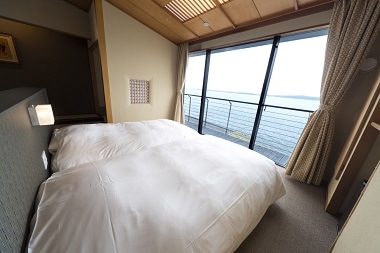 ---
The breakfast is simple but fresh vegetables and fruits, fish sashimi raised in the sea in front of you, plenty of small side dishes line up. The rice is the finest taste. Let's relax back in the room. Looking at the ocean, leave yourself to a massage chair. It will be a supreme moment.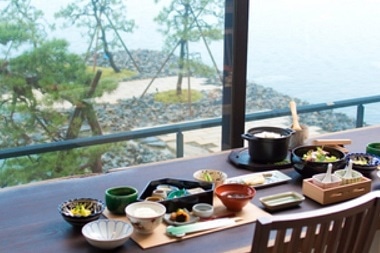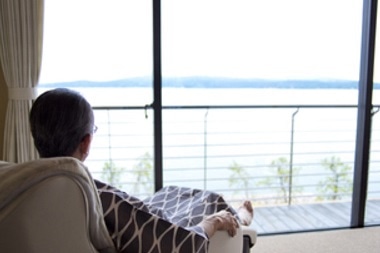 ---
"Matsunomidori" is a special place as an innovative hotel with elegant, modern and keep privacy while fully providing the traditional Japanese inn. We recommend you to stay when you travel on a special occasion like honeymoon, for the couple celebrating anniversary, also traveling in filial piety. You will be able to make the best memories of your life once in a lifetime with Kagaya Annex Matsunomidori.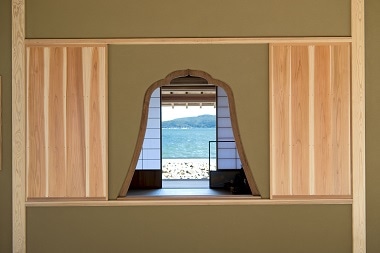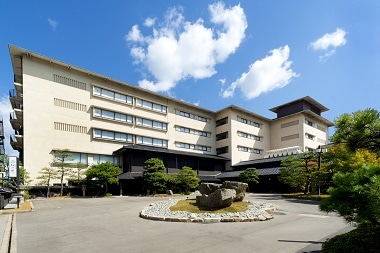 ---
Noto Peninsula Travel Guide
The 1,004 rice fields spreading on the slopes facing the Sea of Japan are designated as World Agricultural Heritage and are said to be "terraced rice paddies of great views" depicting geometric patterns. It is a heritage of Japanese farmland with many mountains and few plains. There is a sightseeing bus from Wakura Onsen.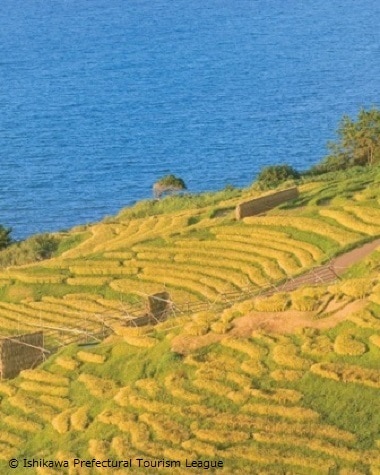 At the trip of Noto Peninsula, Wajima "Morning Market" will be held by local mothers. They will have more than 200 stalls on the morning market street with 360 m long. You will see full of lively especially in the early morning. Eating seafood around the market will also be fun.
We recommend Japanese traditional crafts to those who like it. In addition, Wajima City is a village of lacquer culture so that you can visit not only wonderful exhibitions such as "Wajima Coat Hall", "Wajima Lacquer Art Museum of Ishikawa Prefecture", "Wajima Kobo Nagaya", but also tours and experiences of work.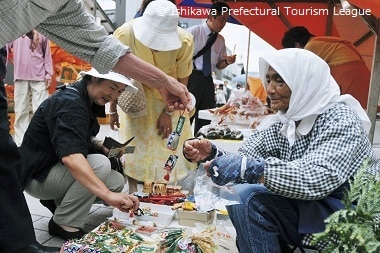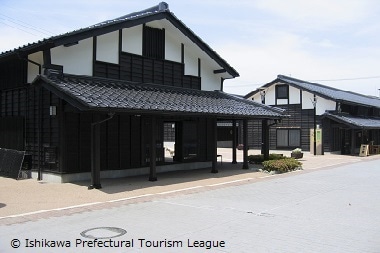 The only coast in Japan that can run on the sandy beach is in the Noto Peninsula that is called "Senri-hama Nagisa Driveway". It is a popular spot for sightseeing of Noto Peninsula. It is rare in the world because the cars, large buses, bikes and even horses can run on the beach. You can take a sightseeing bus tours, and it is good to go around Noto Peninsula by rent a car.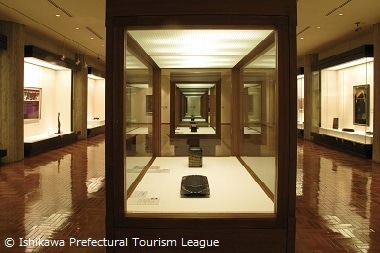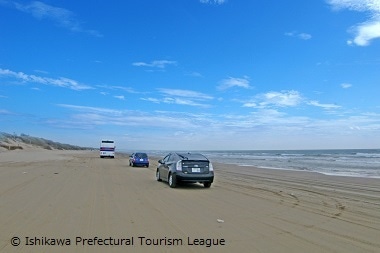 Please enjoy a trip to visit the original landscape of Japan starting from Wakura Onsen.
---