Ryokan Experience
Kurokawa Onsen Area

City:Kumamoto / Area:Kurokawa Onsen
Kurokawa Onsen is located northeastern part of Kumamoto Prefecture. In this area, the town is very small but there are various types of hot springs such as Mildly Acidic Simple Spring, Sulphur Springs or Hydrogen Carbonate Springs. It takes about 2 hours 45 minutes from Hakata Station or 3 hours from Kumamoto Station by express bus.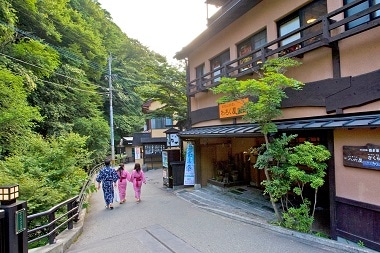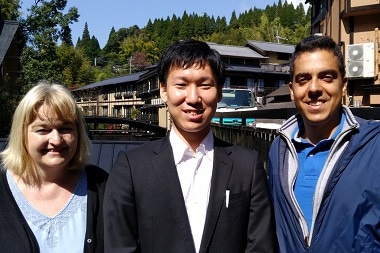 ---
All shops and ryokans as whole Kurokawa are integrated like one accommodation. The town unified with image of Satoyama which is woodland close to living village. You can feel and experience nostalgic Japanese countryside and nature.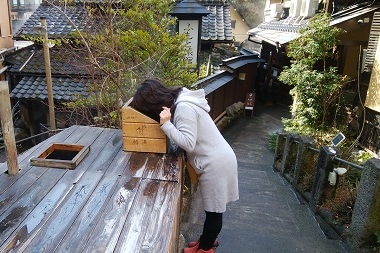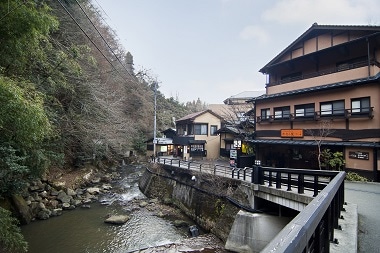 ---
奥の湯 Kurokawa Onsen Okunoyu
Okunoyu is located in further from the center. It takes 3 min by Taxi. There is no Ryokan and Shops near Okunoyu so you will only hear the sound of river, wind and leaves. You can feel nature with your eyes and ears. The buildings are made by wood and you feel you travel into the past and experience old life in Japan.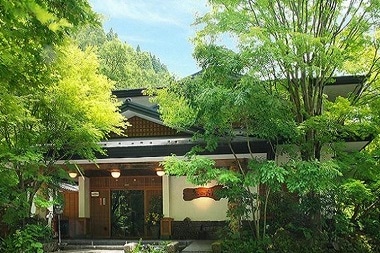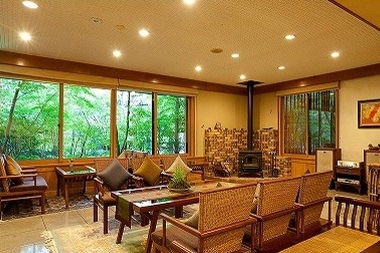 There are many hot springs of Japanese style. Indoor bath is very quiet and you can relax and heal your fatigue. There are also outdoor baths such as a cave bath and a river bath. If you wish to relax with your family, there are three private baths and these have different character. One is an open-air bath covered by Momiji tree. In the indoor bath, time goes slowly and can feel peace of mind.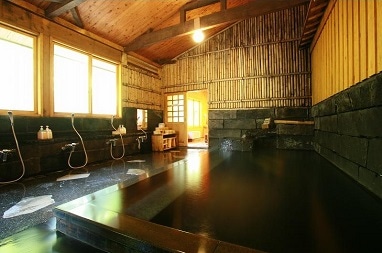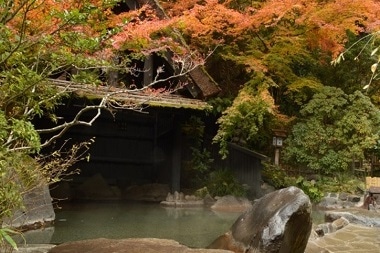 There are 26 bedrooms in total at Okunoyu and these are facing river side or mountain side. You can enjoy seasonal scenery from mountain side and can hear the river sound from other side. You feel the warmth of the tree and water sounds makes you calm. The private open-air bath is available in the room at new building. Equipped TV is connected with internet and you can get information of Kurokawa and Kumamoto by TV and also WIFI is available at all rooms.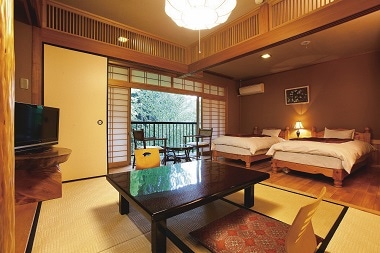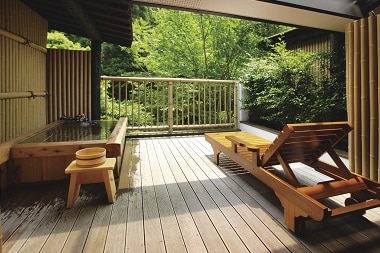 The dinner is Kaiseki course style by using local ingredients. The chef selects best seasonal food for the meal. All foods are very good but especially, higo beef and grilled ayu fish are absolutely delicious.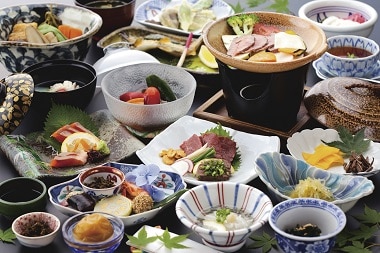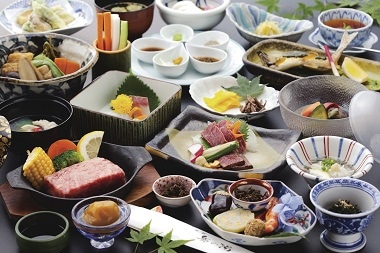 ---
樹やしき Iyashi-no-Sato Kiyashiki
Kyashiki is also located in further from the center. This is a very traditional, affordable and charming Japanese ryokan with its own unique style and character and gives us the true experience of a Japanese Ryokan. Compared to ryokans in other major sightseeing area, it is more secluded, quiet and private and not overcrowded with many tourists or guests.
It is very well placed in the hilly area of Kurokawa and that is so good to have the nature around you when watching out of the window. It sits on a big and spacious area and the winding layout of the ryokan is so unique.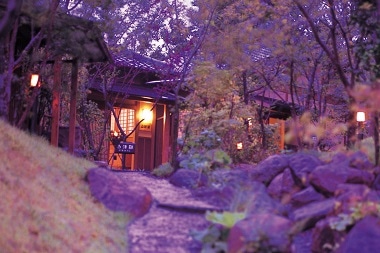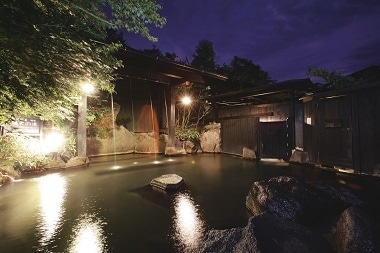 The rooms and common areas are clean and well maintained and have many hot springs, both private and public. There are 9 detached rooms with an open air bath and all rooms are very comfortable.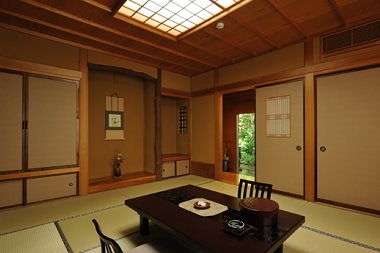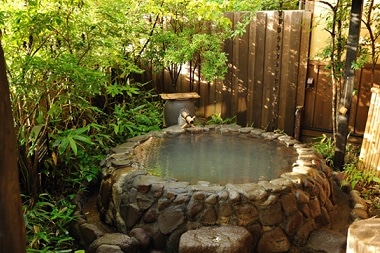 All spa baths have water directly from the spring and are available all night. You can enjoy the wonderful starry sky at night while bathing in open-air bath. There are two series of baths surrounded by wall which eventually lead to a mixed at their ends. There is a small waterfall in the largest bath and stones to sit just under it.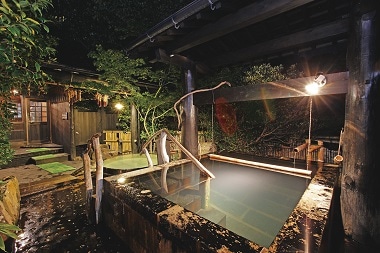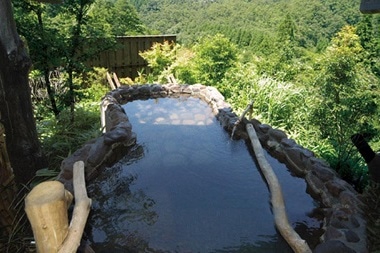 Dishes are served with locally-produced Japanese beef (Higo beef), seasonal tea ceremony dishes, Kaiseki Japanese traditional multi-course. Those are prepared with vegetables from a home garden.
An authentic bar lounge (named forest lounge) was added in the main building recently where difficult to obtain shochu (distilled spirits ) and cocktails are served.  Kyujyu-mountain ranch spreads out in front of you in the daytime and you can enjoy drinking with fantastic light up at night. "Shochu" is popular distilled liquor in Japan and Kyushu is famous district for it. You can taste hundreds of special "shochu" and a homemade plum wine at the lounge.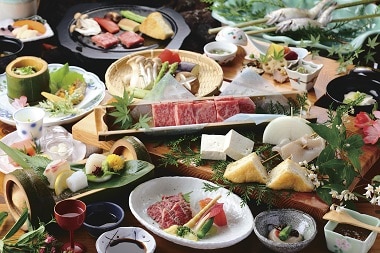 ---
---
Nyuto Tegata 入湯手形
The way to enjoy Kurokawa Onsen is Onsen-hopping. In addition to the above three Ryokan, there are more than 20 Ryokan in walking area and each ryokan has unique Roten-buro (Open air bath). The guest may try 3 from 28 different Roten-buro in Kurokawa onsen by using Onsen-Hopping Pass (Nyuto Tegata, JPY 1,300). Each roten-buro is located within walking distance of the Visitor Center.
It is fun to follow the local custom. When you walk around, you can wear yukata robe and seta sandals provided by your inn around Kurokawa. If you feel cold there is a warm short jacket (hanten) or longer nagagi to pop on top. Other than hot spring, it is nice to enjoy something tasty. To the right of the entrance, you can walk into the café area. We recommend one of sweets cafe named "Shiratamakko". With coffee or green tea, you can taste homemade "Mochi dango "(small soft rice balls) or "Zenzai" (sweet adzuki bean soup) to have more Japanese experience.
---