Ryokan Experience
Aburaya Tousen

City:Nagano / Area:Yudanaka-Shibu Onsen
Abuyara Tousen is located in Yudanaka Onsen area, Nagano prefecture. While there are many Onsen (Hot Spring) area in Nagano prefecture, Yudanaka Onsen is a popular one for its quality of Onsen and most tourists visit here for the purpose of watching Snow Monkey. You can access to Yudanaka Onsen directly from Nagano Station for 50 minutes by the local train- Nagano Electric Railway and it takes around 8 minutes from Yudanaka Station to Abuyara Tousen on foot. The free shuttle bus is also available. (Reservation in advance is required)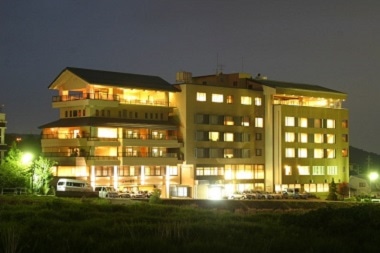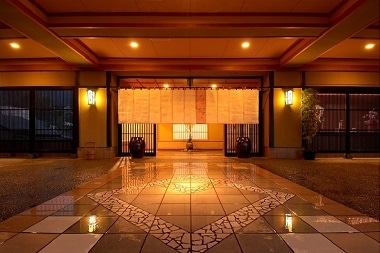 ---
Aburaya Tousen has refurbished the front desk and lobby area in 2018 and all guest rooms are Non-Smoking since 2017. They opened a rooftop bar in December 2016 where guests can enjoy drinking with a great view. The rooftop bar changes its style depending on the season. My recommended season is winter because you can relax and enjoy drink with igloos and heated sunken tables (Kotatsu in Japanese). Besides, they have the variety of relaxation such as Big public bath/Open-air bath on 7F, Private Open-air bath, Private rock bath, Massage room, and Spa. It ensures your comfortable stay in the ryokan's fine surroundings.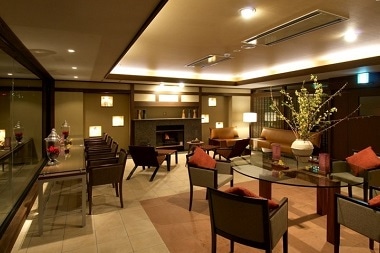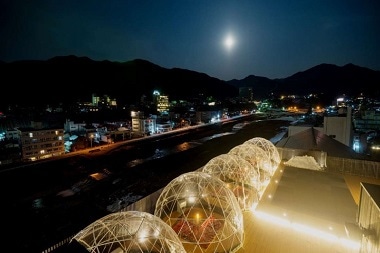 ---
In addition to good facilities, the most remarkable thing is their hospitality. Staff dressed Kimono warmly welcomes you and you will feel their hospitality in some other situations during your stay. One of the good examples is the landlady. Her good character gives you a strong impression. When I stayed, I found it interesting that there is a Japanese traditional doll look-alike her in the hallway. She wants every guest to feel hospitality, so that she makes it a habit to greet every guest in person no matter how busy she is.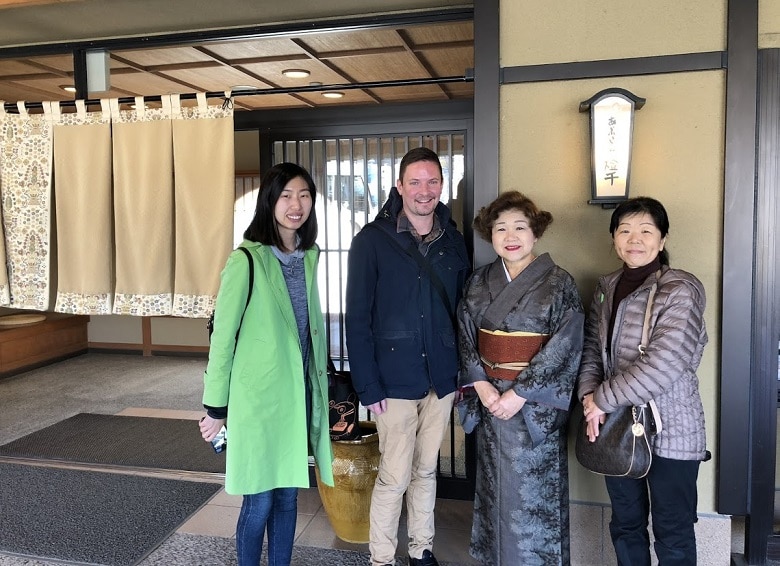 ---
For dinner, the Japanese Kaiseki is served in a private room and also they have two options for breakfast, either buffet or set menu. The concept is to integrate the local specialties in Shinshu area into dishes which Shinshu has a lot of nice ingredients such as beef, salmon, vegetables, and more. You can enjoy the Shinshu branded and seasonal food for both dinner and breakfast.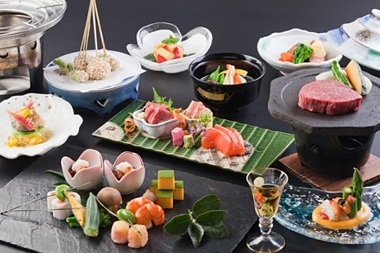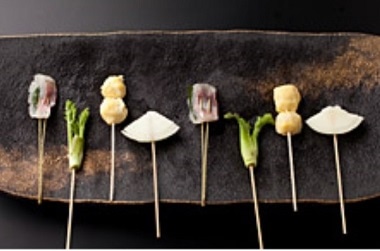 ---
They have the various types of rooms-Japanese room and Japanese room with Open-air bath. Staying Japanese room with Open-air bath, you will be able to relax with the private onsen and quiet surroundings. Even the standard Japanese room, it is comfortable enough and you can still enjoy Onsen at the big public bath/Open-air bath on 7F.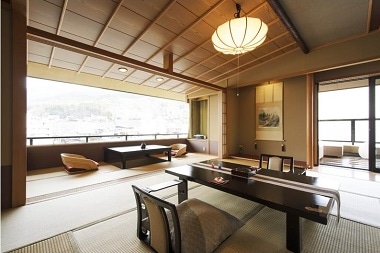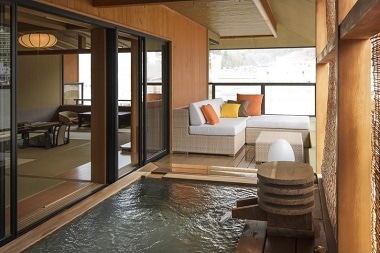 ---
If you are looking for good onsen and hospitality, Abuyara Tousen would be one of the best options in Yudanaka Onsen area. Anyone from adults to children can enjoy but especially couples and those who traveling with friends would love the rooftop bar. I would recommend to stay here and enjoy Onsen in addition to visit Yudanaka Onsen to see Snow Monkeys.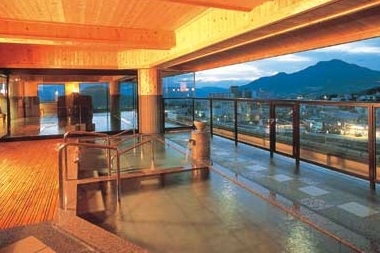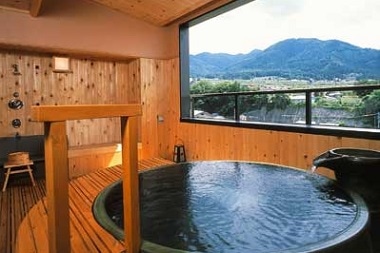 ---
Travel Guide in Yudanaka Onsen Area
Jigokudani Monkey Park is famous as a place where Japanese macaques soak in hot springs during the cold season. Enjoy seeing the monkeys' charming expressions while they spend time relaxing in hot springs, this is the only hot springs in the world exclusively used by wild monkeys.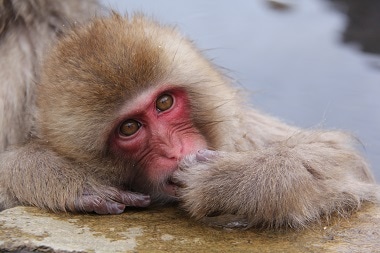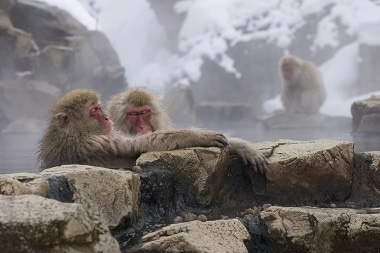 There is another Onsen area called Shibu Onsen near Yudanaka Onsen. This is the traditional onsen town and you will find wooden ryokan, souvenir shops, shooting galleries and restaurants along the street. Also if you like Ghibli, you may visit Kanaguya Ryokan. It is not officially recognized by Studio Ghibli but it is said that some of scene in the Ghibli movie ''Spirited Away'' use Kanaguya as a reference. Interestingly, Kanaguya gets more famous due to this story and many tourists are coming to visit Kanaguya and Shibu Onsen.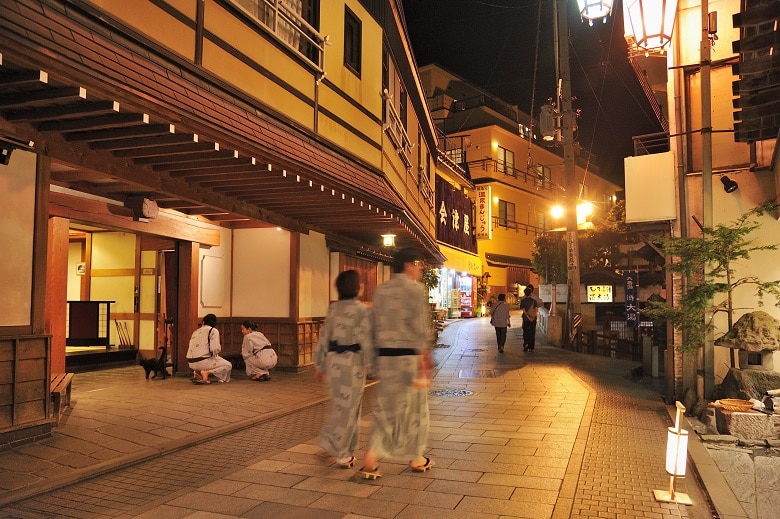 During the winter season, you can enjoy skiing in Ryuoo Ski Park. Free shuttle bus is available between Yudanaka station and Ryuoo Ski Park. Yudanaka Information Center in front of Yudanaka station also offers the gear rental services and the English speaking staff is available, so you can just visit there and enjoy skiing. Moreover, the ropeway is available in Ryuoo Mountain Park during the green season. You can enjoy the nice view at the top of the mountain and a sea of clouds if you are lucky.
If you are going to Yudanaka Onsen, you might want to stop by Obuse town on the way. Obuse is the smallest town in Nagano prefecture contained within a two-kilometer radius. Obuse is famous for Chestnuts and known as the town of Katsushika Hokusai – a well-known Japanese artist, the author of the internationally iconic print ''Thirty-six Views of Mount Fuji''. If you are an art lover, please go to Hokusai Museum and enjoy his art works. Besides that, a traditional townscape still remains and you will find stores and restaurants using the old Japanese-style houses. Enjoy strolling around this beautiful town.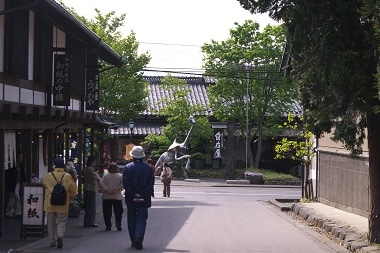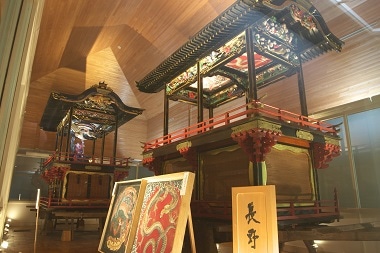 ---
Recommended Product on GENESIS
Snow Monkey Pass
Tour code :PAS2C01004CCC
How to search on GENESIS :Please click the ''Private Arrangement'' icon, then choose⇒Services⇒Pass⇒Click the ''Search For Tours''
Category :Chubu (Nagoya, Kanazawa, Takayama, etc.) Transportation Pass / Ticket

Sample Itinerary
Day 1

Take a bullet train from Tokyo to Nagano⇒
Use Snow Monkey Pass and take an express bus from Nagano Station to Shiga Kogen⇒
Get off at Snow Monkey Park bus stop and take a 35 minutes walking to Jigokudani Monkey Park⇒
Use Snow Monkey Pass to take a bus from Kanbayashi Onsen bus stop to Yudanaka Station or walk back and stop by Shibu Onsen on the way⇒
Stay Ryokan in Yudanaka Onsen
Day 2

Use Snow Monkey Pass to take an express train from Yudanaka Station to Obuse Station⇒
Enjoy strolling around Obuse town⇒
Use Snow Monkey Pass to take a train from Obuse Station to Zenko-ji Shita Station⇒
Visits Zenko-ji Temple (Free volunteer guide is available in English, German, French and Chinese)⇒
Use Snow Monkey Pass to take a train from Zenko-ji Shita Station to Nagano Station