CEO Message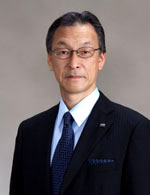 Perfect moments, always
JTB was established in 1912 with the aim of attracting people from around the world to Japan so that as many people as possible could find out about the country. As a specialized inbound travel company in the JTB Group, JTB Global Marketing & Travel (JTBGMT) has inherited this spirit and this 100 year old mission, and conveyed the appeal of Japan to people from many countries around the world.
TOn a global stage, the JTB group is currently taking on the challenge of developing a new business domain called the Multicultural Communication Business in order to create and promote interaction between people from all over the world. We hope to create new culture and movements by expanding the Multicultural Communication Business to provide our customers with excitement and joy, and to spread this limitless potential. Under the slogan of "Perfect moments, always" in its Global Vision 2020 plan, the group will aim to take the number one position in the growing and expanding Asian market.
With this in mind, JTBGMT's role as a core company in the JTB Group should not be merely to fulfill its original aims, but also to expand and drive forward interaction between Japan and the rest of the world, and to contribute to establishing Japan as a tourism-oriented country. To this end, we aim to become the most respected DMC (destination management company) in Japan, Asia and the World with acclaimed hospitality.
As a leading Japanese DMC aiming to help Japan become a tourism-oriented country, JTBGMT will continue to provide the best solutions for international exchange in all areas including individual/group travel, online reservations, MICE (meetings, incentives, conferences and events), sightseeing tours, and educational travel. In April 2017, the company established a new sales office in Hiroshima – its seventh regional sales office – to expand its nationwide network. With this expanded network we shall deepen our cooperation with regional society in order to contribute to the government's target of regional revitalization by attracting overseas visitors to Japan.
We shall respond to this increasingly unpredictable and everchanging world by concentrating the knowledge we have gained over the course of a 100 years to put in place an environment that facilitates lively exchanges between people from all over the world, and by doing so shall contribute to the creation of a harmonious society in which all people are able to gain a deeper understanding of one another.
April 1, 2017
Hisanori Zama, President and CEO
JTB Global Marketing & Travel Inc.