The advantages of JTB GMT
Minimal costs through economies of scale
and optimized logistics via JTB service network
JTB GMT provides coherent management of all operations from tour planning and preparation to implementation and settlement.
We save you time and effort through one-stop solutions that include outsourcing of administrative tasks
such as communicating with hotels and event venues, sending of invitations and RSVP management.
1

Easier data gathering
and decision making
JTB GMT swiftly proposes plans that accomplish your goals. Through vast experience with inbound visitors and total access to the JTB Group's immense supplier network, we help you find the ideal venues, facilities and itinerary straight away.
2

Lower costs and
faster event preparation
As a one-stop DMC, we handle planning, arrangements and operation for clients both overseas and in Japan. We deal with you directly to eliminate the middleman, improve communication accuracy and reduce time for event preparation.
3

Easier management
with less correspondence
Our original JTB Online Registration System facilitates communication and data accuracy, thus reducing the time you spend preparing for your events.
Service in 5 steps
STEP1

Orientation
STEP2

Plan

From concept to details, we propose the most suitable plans to meet your requirements.
STEP3

Preparations

JTB GMT arranges for the right venues and services to satisfy both organizers and attendees.
STEP4

Implementation

Friendly greetings

We cheerfully welcome guests upon arrival at airports and hotels with Omotenashi (Japanese hospitality).

Information desks

We set up information desks at venue sites and hotels during meetings and incentive tours to provide friendly support.

Event assistance

JTB GMT can arrange and manage meals, parties, welcome and farewell receptions, award ceremonies and other events. This includes support for floor layouts, design and direction, theme planning, equipment rentals, event site installations and attractions, commemorative items, gifts and more.

Logistics management

We can arrange all types of transportation (bus, hired car, bullet train, airplane) to meet your requirements.

VIP services

JTB GMT can provide attentive care to VIP guests.

Activity planning and management

Technical visits to facilities, short excursions, cultural experiences and tours can be arranged before and after your main event.
STEP5

Post event
services

Quick settlements

JTB GMT promptly provides the final invoice following completion of your program.

Proposals for upcoming events

We can provide post-event evaluations and recommendations for future events.
Staff Message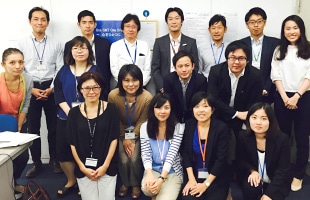 JTB GMT strives to provide organizers and participants a memorable stay in Japan for both first-time visitors and repeat customers. Our mission is to fully satisfy all participants with the best possible solutions to their travel and tour needs.
JTB Global Marketing & Travel Inc.
MICE Business Department Corporate Sales, Section 1, All Staff Members