Quad room has 4 regular beds in one room
Since your children are no longer babies, there is not enough space for co-sleeping. But, it is worrying to have your children to stay in another room alone. In such a case, why not try using a 4-bed room? Rather than adding extra beds in the standard room, the 4-bed room has 4 regular beds and so it won't be packed. Since it's not a suite room, the accommodation fee is rather cheap. The room is wide enough with a suite room but the accommodation fee is more reasonable.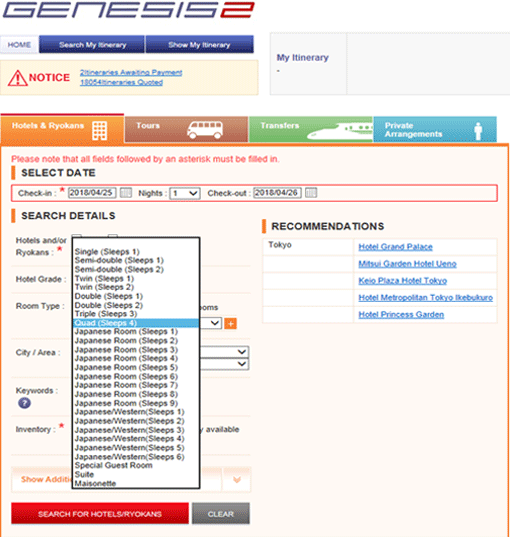 Keio Plaza Hotel Sapporo
From JPY 36,400
Room only (Sleeps 4)
Located in the heart of Sapporo, the Keio Plaza Hotel is a modern hotel just 5 minutes' walk from JR Sapporo Station. Guests at the Keio Plaza Hotel Sapporo can look forward to warm, friendly hospitality and a first class stay. Over 300 parking spaces available for hotel guests. All guest rooms feature free wired and wireless internet, and have an air filter and humidifier. This hotel is the number one ranking hotel in Sapporo for inbound guest bookings.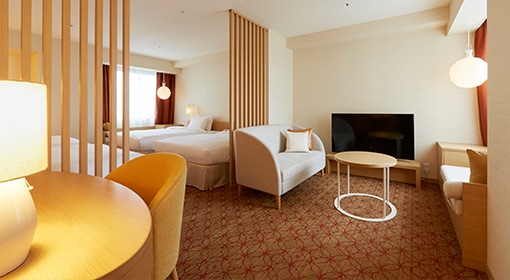 [Comfort Quad]


Renewed rooms are well designed and with appropriately partitioned bedroom and living room that make you feel comfortable.
● Simmons bed mattresses which are made with the technology and science of sleep are installed
● The bath amenities are POLA's "AROMA ESS"
● Air purifiers with humidifiers are installed.
GENESIS search engine
City / Area
Hokkaido
- Sapporo Station / Odori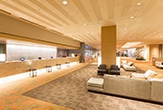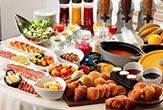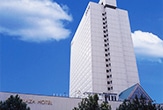 Tobu Hotel Levant Tokyo
From JPY 30,300
Room only (Sleeps 4)
This hotel is an official hotel of Tokyo's newest landmark, the Tokyo Sky Tree. Standing 24 stories high, the restaurant and lounge on the top floor offer views not only of the Sky Tree but other Tokyo landmarks like Tokyo Tower and Rainbow Bridge as well. The night view of the city is also not to be missed. Just a few minutes' walk from JR Kinshicho Station, which is just 8 minutes from Tokyo Station, and with direct access to a concert hall and department store, this hotel is ideal for everything from business travel to sightseeing. A free shuttle bus to Disney Resort is running every day.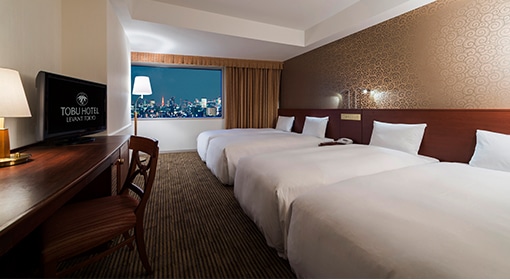 [Quad]


Easy-to-use rooms for families to stay together. The Good Neighbor Shuttle Bus can be used for transport from the hotel to Disney Land in 40 minutes. These rooms would be a wonderful choice to make family trips memorable.
GENESIS search engine
City / Area
Central Tokyo
- Ryogoku / Kinshicho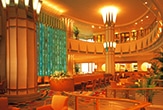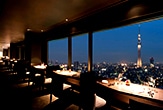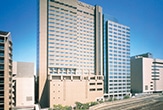 Art Hotel Osaka Bay Tower
From JPY 22,500
Room only (Sleeps 4)
Directly connected to Bentencho Station on the JR Osaka Loop Line and Municipal Subway Chuo Line, this hotel is in a convenient location, about 10 minutes from Umeda and Namba. Feel free to stay for sightseeing or business in Osaka.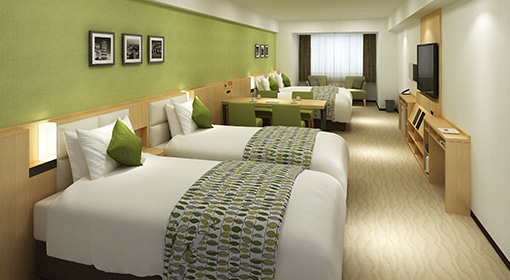 [Deluxe Fourth]


Equipped with four 110cm width beds positioned in a line and with tables between beds. The hotel has good access to USJ and Osaka Aquarium and would be a great start for family trips.
GENESIS search engine
City / Area
Osaka
- Osaka Bay Area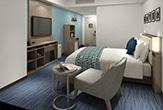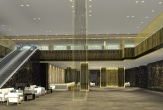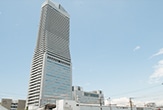 Kafuu Resort Fuchaku Condo Hotel
From JPY 28,300
Room only (Sleeps 4)
This hotel offers spacious guestrooms, all with magnificent views of the ocean. Have a fantastic resort stay at the hotel's luxurious, private, cozy rooms.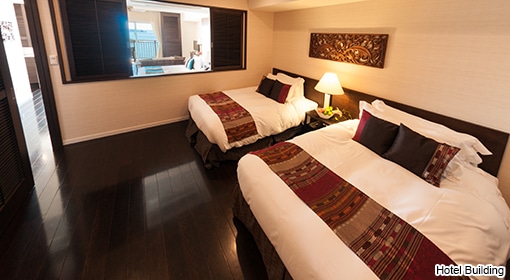 Suite rooms with different atmosphere in different buildings
[Condominium Building Quad]
[Hotel Building Quad]
[Annex Suite Quad]
GENESIS search engine
City / Area
Okinawa
- Onna