SNOW! SNOW! SNOW! Tohoku's Must-Sees in Winter!
When you think of Tohoku, what springs to mind? The cherry blossoms in full bloom? The fiery red foliage in autumn? The hot springs that relax your strained body? Gourmet meals with plenty of seafood and mountain delicacies? Tohoku in the wintertime is buried deep in snow, and most people may think that it is best to travel there from spring to autumn. However, Tohoku during winter actually has its own charms, such as attractive winter festivals and spots where you can enjoy snowscapes unrivalled around the world. This month, we will introduce four attractions under the theme of "winter/snow in Tohoku."
Consider Tohoku for your next trip!
Yokote Kamakura Snow Festival
In Yokote, known as one of the snowiest of the snowy regions, the Yokote Kamakura Snow Festival, which boasts a history of 450 years, is held every February. The Yokote Kamakura Snow Festival is a Little New Year rite celebrating the God of Water, and is counted as one of Michinoku's(Tohoku's) Five Great Snow Festivals. During the Festival, about 100 kamakura (Japanese igloos) are built across the several main venues throughout the city, and you can enjoy walking around while enjoying Akita's local delicacies and sake.

[Date] February 15th and 16th every year
[Root] From Tokyo Station to Omagari Station: approx. 3 hours 15 minutes on JR Akita Shinkansen Komachi
From Omagari Station to Yokote Station: approx. 20 minutes on JR Ouu Honsen Line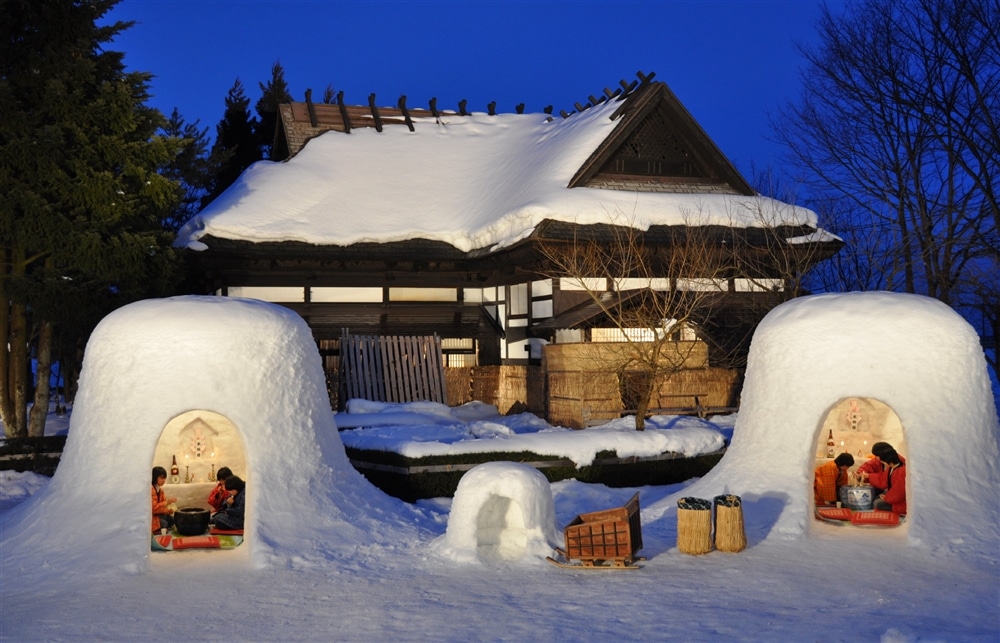 Kamakura / ©Akita Pref
The Namahage Sedo Festival is an event that started in 1964 by combining Saito-sai, a Shinto ceremony, with Namahage, a local tradition. It is one of Michinoku's(Tohoku's) Five Great Snow Festivals. Saito-sai has been held on January 3rd at Shinzan Shrine on the Oga Peninsula since the Heian era (8th-12th century). In this ceremony, a bonfire is lit in the precincts of the shrine, and large rice cakes toasted with this fire are offered to the gods of the mountain. Namahage are believed to be the messengers of the gods residing in Shinzan and Honzan. Once a year, Namahage go around households as joy-bringing spirits to give admonition for wrongdoing; pray to keep misfortune at bay; and bring good harvests and hauls as well as luck. A folk event that passes down an old tradition, the Namahage ritual has been designated as an Important Intangible Folk Cultural Property. In the festival, a bonfire is lit at Shinzan Shrine, and you can experience close-by the soul-stirring and fantastic atmosphere of the Namahage's dancing, drumming, and descent down the mountain.

[Date] Second Friday – Sunday of February every year
[Root] From Tokyo Station to Akita Station: approx. 3 hours 45 minutes on JR Akita Shinkansen Komachi
From Akita Station to Oga Station: approx. 1 hour on JR Oga Line
From Oga Station to venue: approx. 40 minutes on temporary bus (fair charged)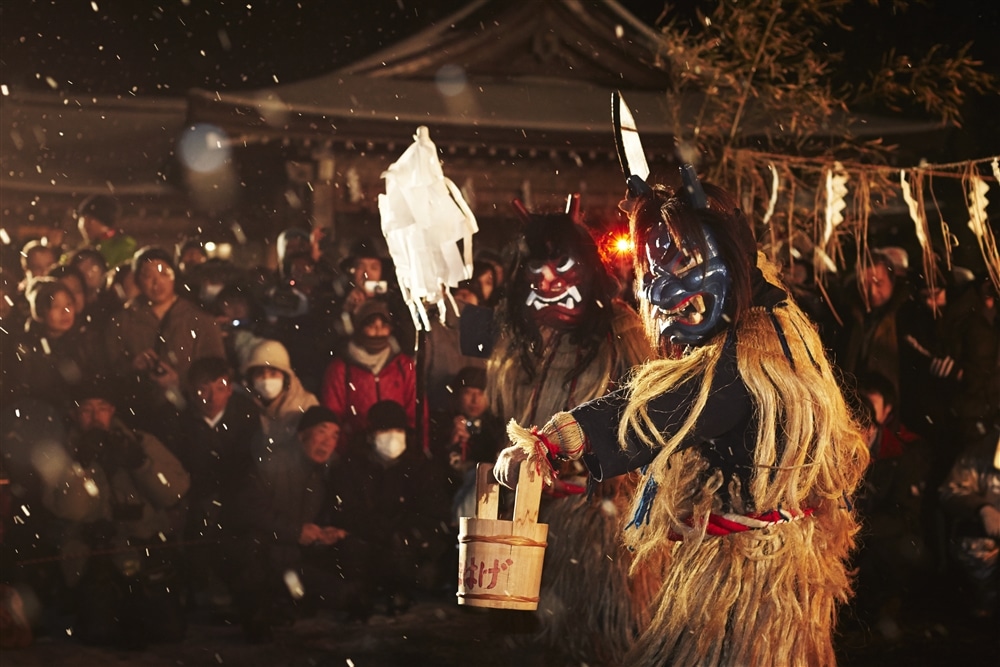 Namahage / ©Akita Pref
SNOW MONSTERS of Mt. Zao, Yamagata
Frozen trees are trees wrapped in ice. These are formed when water particles in mists and clouds supercooled at temperatures below -5°C are blown against the trees and frozen. They grow bigger on the side that faces the wind. Covered up in ice and snow, the trees resemble monsters, hence the name "snow monsters." These icy works of art are made possible by the unique climate conditions and vegetation of Mt. Zao, which rises above the border between Miyagi Prefecture and Yamagata Prefecture. They have proven to be a highly popular wintertime tourist attraction as they are rarely found elsewhere worldwide. You can go to the frozen trees by connecting two ropeways that can be ridden by non-skiers as well. During certain periods, you can also enjoy seeing them lit up.

[Best Season] late January - early March
[Root] From Tokyo Station to Yamagata Station: approx. 2 hours 30 minutes on JR Yamagata Shinkansen Tsubasa
From Yamagata Station to Zao Onsen: approx. 45 minutes on regular bus
Take ropeway from Zao Onsen to frozen trees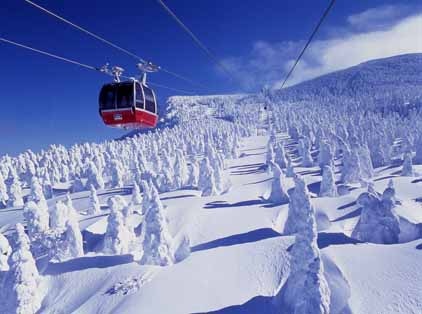 Snow Monster / ©Yamagata Prefecture
Located in Minamiaizu, Fukushima, Ouchi-juku was a post town during the Edo period and is now designated as an Important Preservation District for Groups of Traditional Buildings by the nation. Held in this district, the Ouchi-juku Snow Festival is one of Japan's major snow festivals, bustling with tourists from not only Tohoku but all over Japan. During the festival, many events such as an era-themed costume competition, a Yosakoi dance gathering, and a soba eating contest, are held in the snow-frosted settling. The highlight of the festival is Goshinka Taika, an event in which men wearing loincloths who were purified before an altar go around carrying sacred flames taken from the altar, lighting up snow lanterns placed throughout the post town. This event is held on the first evening. You can also enjoy local delicacies of Ouchi-juku, such as handmade soba noodles, wild plants, and river fish.

[Date] Second Saturday and Sunday of February every year
[Root] From Tobu Asakusa Station to Yunokami Onsen Station: approx. 3 hours 30 minutes on Tobu Railway
From Yunokami Onsen Station to Ouchi-juku: approx. 30 minutes on regular bus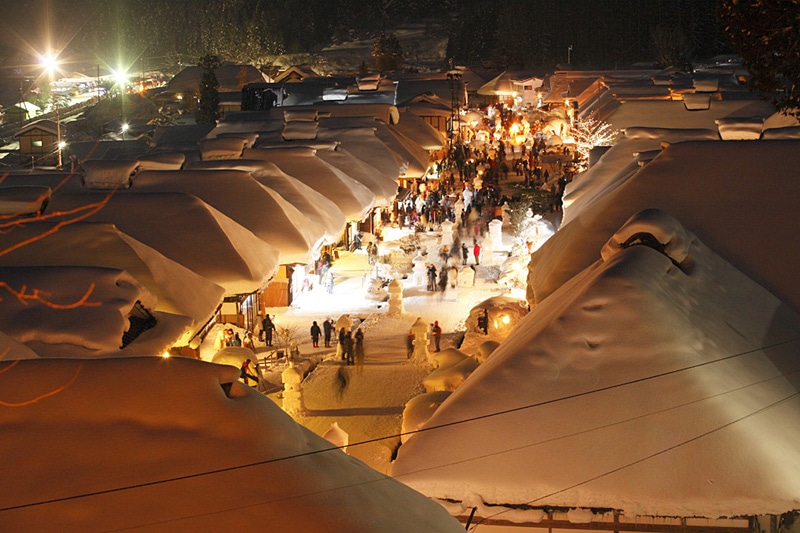 Goshinka Taika /
©FUKUSHIMA PREFECTURAL GOVERNMENT