Online Travel Solutions
GAccess Web Service - XML/API Web Service

GAccess web service provides easier, faster and more flexible access to the GMT's wide variety of contents. Through this service, Online Travel Agents and Travel Suppliers can integrate GMT products and service all the functionality needed to sell travel with your own applications and databases.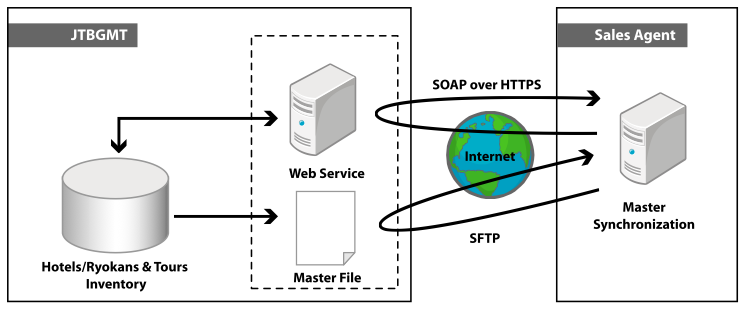 Choose the interface for your business
We provide XML API for Hotels, Ryokans (Japanese Inn), Sightseeing (Seat-in-coach, Private) and Transfers (Private and shared).

Easy Set up
Our API service basically follows OTA XML standard schemas (OTA 2010A) with some elements added or eliminated to fit the travel business in Japan. You can start developing as soon as you receive access credentials, technical specification and support documents.

Time Saving
GAccess enables you to integrate our products with your own reservation system and databases so there are no need for training your operation staffs to use our traditional user interface (Genesis2).
Genesis2 - Tour Planning Site for Travel Agents


Variety of Contents
As Japan's No.1 travel agent, we can provide wider variety of lodgings such as traditional Japanese Inn (Ryokans), tours and transfer services which we operate by ourselves.

For your eyes only
As a Tour operator, we can arrange and register FIT Package Tours just for your eyes only.

Easy Navigation
User friendly interface. Choose from Hotels, Tours, Transfers, private arrangements and just follow your way through.

Instant Confirmation
Instant confirmation with just a click of a button. No waiting for e-mail confirmation replies anymor.

Documentations
Confirmation vouchers, quotations and itinerary can be downloaded with just one click.

Credit Card Payment
Access to our credit card payment system to avoid any additional cost such as bank settlement.
For more information, please get in touch.