Tottori Prefecture
Tottori is known for its sand dunes. Not only can you ride on camels there! Activities are in abundance, including paragliding, sandboarding, fatbiking, and yoga. The Sand Museum is an epic must-see, too. Another symbol of Tottori is Mount Daisen. Enjoy the way its bold figure changes with the seasons or the angle you see it from. Tottori is also famous for its great hot springs. Why not relax yourself with a bath and fresh food coming from the sea and the mountain?
Tottori useful Info. http://www.torican.jp/english
Tottori Sand Dunes and the San'in Kaigan UNESCO Global Geopark Area
On the Uradome Coast are San'in Kaigan Geopark, which was certified in 2008 as a part of Global Geoparks Network, and Tottori Sand Dunes, which have rugged dunes with a height difference of more than 40 meters. The Geopark Area is also blessed by an abundance of seafood that includes: Matsuba crabs, Swordtip Squid, and Iwagaki Oysters found at Ajiro Fishing Port and Tottori Port. The myth titled "The White Rabbit of Inaba"that is set in this area has been translated and published overseas. Recently The Sand Museum which is the world's first indoor space dedicated to the art of sculpting with sand has been popular with the tourists.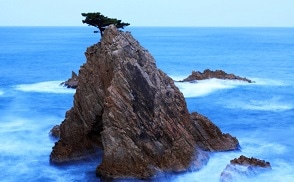 Uradome Coast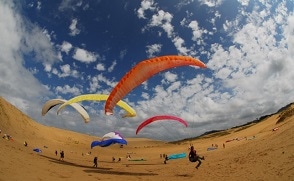 Sports activities @ Tottori Sand Dunes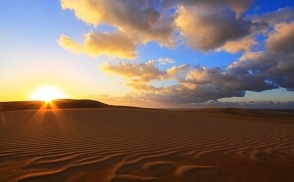 Tottori Sand Dunes
Mt. Mitokusan and Misasa Onsen, Japan Heritage sites
Mt.Mitoku, a Japan Heritage site, is a holy place for the practitioners of Shugendo (a religion unique to Japan centered on ascetic, mountain-dwelling practices). By entering Sanbutsuji Temple's Nageiredo Hall, which is situated on a steep mountain surface, your eyes, ears, nose, tongue, body, and consciousness will be purified. At the Misasa Onsen hot springs, your six senses of sight, hearing, smell, taste, touch and emotion will be soothed.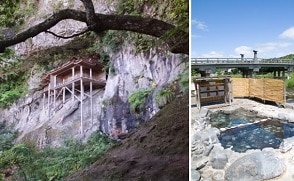 Mt Mitoku, Public open-air bath
Sports resort : Mount Daisen and Kaike Area
Mount Daisen (1,709 meters high)is ranked among the top three in Japan's Beautiful Mountain Rankings, along with Mt.Fuji, and is a celestial mountain representative of western Japan . You can enjoy nature throughout the four seasons by climbing, touring by bicycle or skiing. Kaike Onsen,from where one can see Mt.Daisen, is the largest hot spring resort in the San'in region. From this place you can sightsee throughout the region.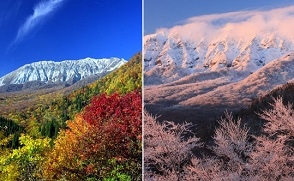 Mt Daisen Autumn and Winter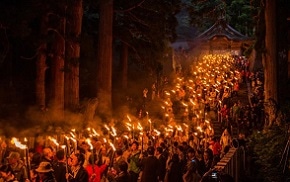 Torch light parade (June)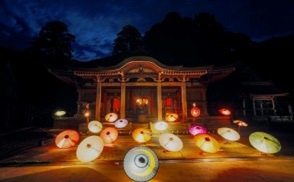 Daisenji Temple
* 2018 marks the 1300th anniversary of the founding of Daisen-ji Temple
For more information, please get in touch