JTBGMT RECEIVED BEST DMC (NORTH ASIA)
2019.10.09
JTB Global Marketing & Travel Inc.(JTBGMT)awarded "Best Destination Management Company (North Asia)" at M&C Asia Stella Awards 2019 held on August 20,2019 in Singapore.

This is the only Destination Management Company in Japan that has been recognized for its experience in handling JTBGMT's large international events and for promoting sustainable tourism. M&C Asia Stella Stella Awards is a MICE industry-specific accolade honor. It is essential to offer and commend brands that have pushed the boundaries and brought the meetings industry to new heights. A total of 25 awards across seven different categories are being awarded.

All nominations and winner(s) were voted on by readers of M&C Asia and endorsed by industry professionals during an open voting period, which consisted chiefly of meetings professionals within the MICE industry We will continue to work together in the MICE field to provide further value to customers, improve service and quality, and contribute to the global development of the MICE industry.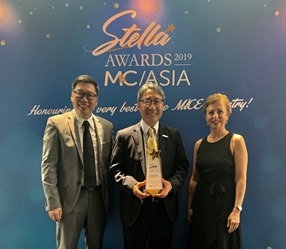 LEFT: Mr. Stanley Ho, Senior Editor, Northstar Travel Group
CENTER: Mr. Shinya "Billy" Kurosawa, President and CEO
JTB Global Marketing & Travel Inc.
RIGHT: Ms. Loren G. Edelstein, Vice President, Content Director, Northstar Meetings Group