Noboribetsu Date Jidaimura Admission Ticket with Dress-Up Photo Shoot & Dango Rice Dumpling Snack Plan
Tour Code :

TKT1H95904HHS
Departs from :
Tour Brand :

Hokkaido Entertainment / Sightseeing Ticket
change(s) from the previous year :
Price(Lowest) :

¥6,000 ~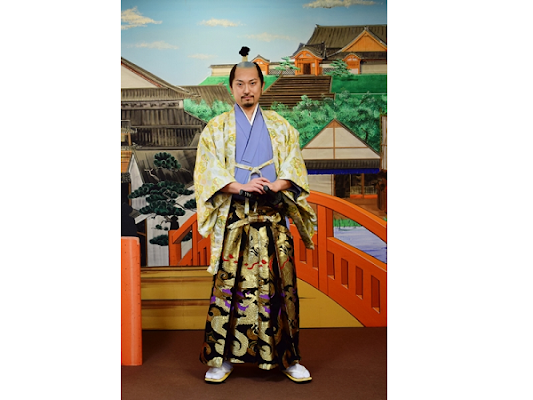 Overview :

1. A historical theme park built to recreate the culture and townscapes of Japan during the Edo Period (1603-1868). Here, visitors can step back in time and experience a slice of history.
2. Enjoy watching an action-packed ninja show, a captivating oiran dance, and a variety of traditional activities such as archery, shuriken (ninja star) throwing, and shooting darts with a blowgun here at this vast northern land. Fully enjoy the atmosphere of the Edo period.
3. This plan includes a dress-up photo shoot and dango rice dumpling snack, a specialty of Jidaimura. Have your photo taken dressed up as a Japanese lord, samurai, ninja, princess, or maiko, and capture this treasured moment.
4. On this flexible plan you can enjoy 1-time admission at any time you want within 5 days of the selected use date. This tour is quite convenient as there is no need to go through any hassle such as buying a ticket at the ticket gate of a popular facility.
Itinerary
day1

09:00-15:00 [Nov. 1 - Mar. 31] Reception & Admission to Noboribetsu Jidaimura
Remarks:Conducting Company: Noboribetsu Date Jidaimura
 Address: 53-1 Nakanoboribetsu-cho, Noboribetsu-shi, Hokkaido
[Reception Method]
At reception, please show your reservation confirmation sheet, a printout of the reservation confirmation e-mail, or show the e-mail on your mobile device screen to staff.
[Operation Conditions/Tour Conditions]
Dress-up Photo Shoot:
Participants may select a costume of their choice. Outfits include a Princess, Maiko, Japanese Lord, Samurai, and Ninja. For an additional fee of JPY 500, participants can dress up as an Oiran (courtesan), Shinsengumi (special police force), or wear a Kamishimo (outfit of samurai and courtiers).
Photos will be taken individually. One L size print (89 mm × 127 mm) will be provided per participant. For those that would like 2 or more copies of the same picture, additional copies can be provided for on-site payments. (Photos are limited to the same one)
*If there is someone else currently wearing the costume, customers may need to wait for their turn. Once the photo shoot for the other person has finished, customers will be able to put on the costume.
*Child sizes are also available. (Ninja, Japanese Lord, Princess)
*Takes about 10 minutes.
*Please refrain from taking pictures on your own.
*Customers may not wear the studio-use costumes outside.
*From June to September only, customers can change to the yukata photo shoot plan. (For yukata only, participants can put on the outfit and stroll around the facilities)
[Exemptions/Itinerary Guarantee: Itinerary/Destinations]
- This plan includes the admission fee for Noboribetsu Jidaimura, dress-up photo (photo fee and costume fee), and the fee for dango rice dumplings. Please pay for meal costs and paid experience fees in the park.
[Important Notes/Supplements: Meeting/Pick-up/Pick-up Location]
- Noboribetsu Jidaimura / Enter at your preferred time between 9:00 and 15:00
- Admission tickets (1-time use only) may be picked up within 5 days of the selected date. Admission tickets cannot be picked up 6 or more days from the selected date. In this event, no refunds will be issued.
Example: For a use start date of Oct. 1: Make a booking for Oct. 1. The valid period for pick-up is Oct. 1 to Oct. 5.
*Once picked up, admission tickets are only valid on the day of pick-up.
*Once picked up, admission tickets cannot be refunded, reissued, or re-sold. It cannot be used in combination with other tickets or services.
Address:
Noboribetsu Jidaimura: 53-1 Nakanoboribetsu-cho, Noboribetsu-shi, Hokkaido
Access:
- From JR Noboribetsu Station: Take a Donan Bus bound for Ashiyu Iriguchi to the Noboribetsu Jidaimura bus stop (8 min). Immediate access from there.
- From Noboribetsu Onsen: Take a Donan Bus bound for Noboribetsu Station or Muroran Ferry Terminal to the Noboribetsu Jidaimura bus stop (10 min). Immediate access from there.
*It takes about 1 hr 20 min from JR Sapporo Station to JR Noboribetsu Station via JR lines.
Open Hours:
Summer (Apr. 1 - Oct. 31): 9:00 - 17:00
Winter (Nov. 1 - Mar. 31): 9:00 - 16:00
*Reception is until 1 hour before closing.
*Closed Mar. 2-5, 2020 for maintenance checkup. (Information current as of Sept. 2020)
*Also, depending on operational circumstances, certain tour dates may be canceled, or tour operation may cease entirely. Please make sure to check the website in advance before coming:
http://edo-trip.jp/en/
Dress-up Photo Shoot:
When picking up the admission ticket, you will be provided with a ticket for the dress-up photo experience. Present your reservation confirmation sheet at Utsuroi-Kan in the park to handle reception.
Dango Rice Dumpling:
When picking up the admission ticket, you will be provided with a dango rice dumpling voucher. Present your reservation confirmation sheet at Waraji-Ya in the park to receive it. (1 skewer per person)
[Important Notes/Supplements: Guide/Tour Conductor]
- This is an unguided plan, so please go to the meeting location on your own.
[Important Notes/Supplements: Regarding Children/Infants]
- Due to a lack of kid's size costumes, children 5 years of age and younger may not participate in this tour. (Costumes are not available for children age 5 and younger)