[Request Reservation] 2-Day Mt. Fuji Glamping & Local Area Tour
Tour Code :

PV0016J8S
Departs from :

Tokyo
Tour Brand :

Mt. Fuji Tour (Multiple-day)
change(s) from the previous year :
Price(Lowest) :

¥69,000 ~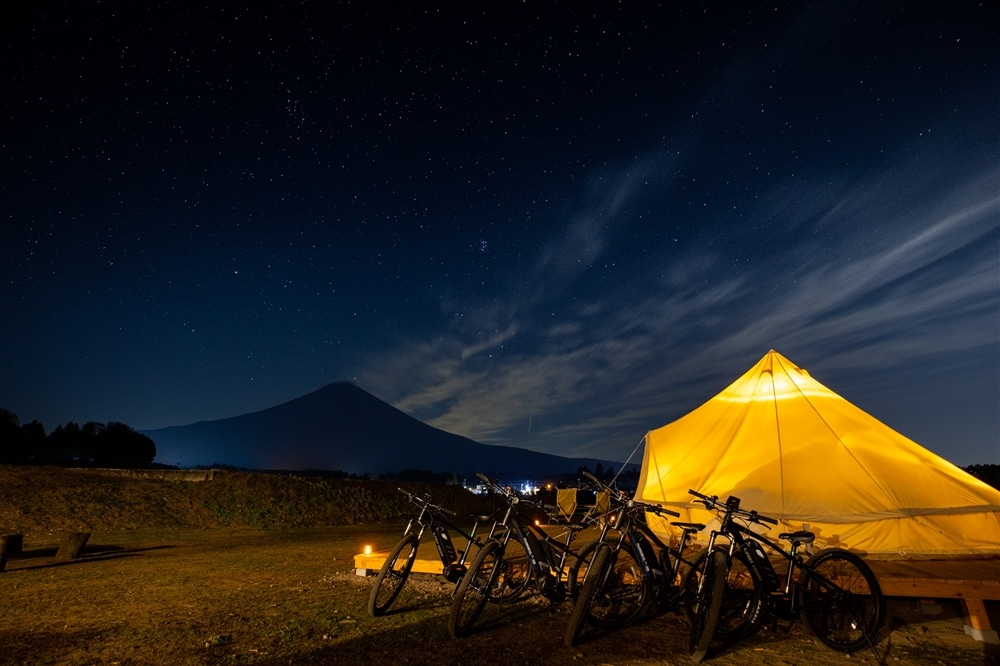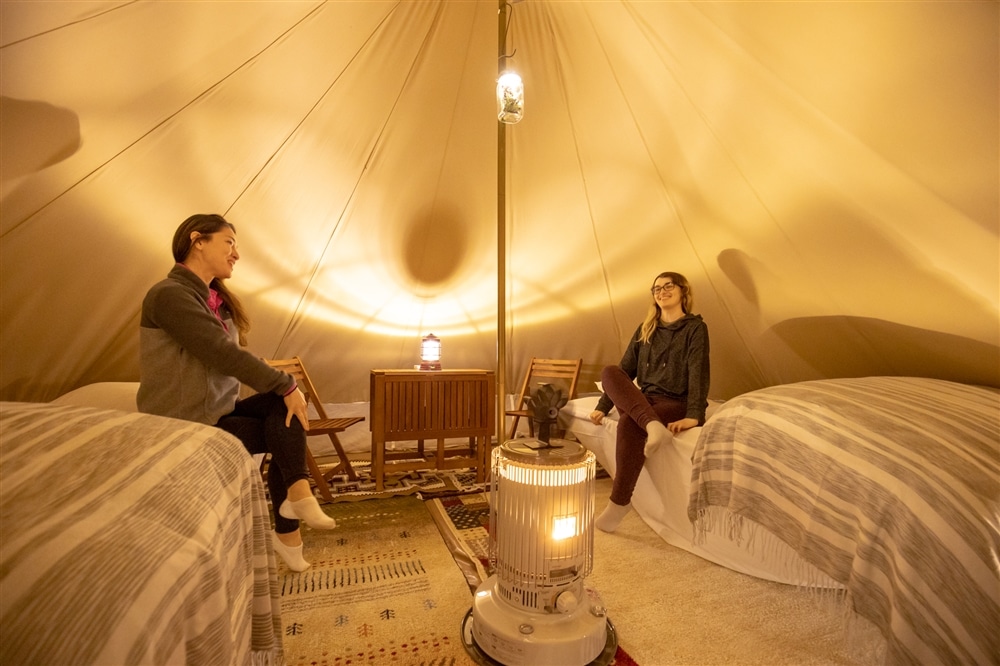 Overview :

1. Enjoy glamping while gazing out at a panoramic view of Mt. Fuji. Spend a leisurely and private time in Shizuoka away from the city center.
2. In the evening, enjoy some BBQ using local ingredients at a liberating campsite.
3. On Day 2, participate in an activity tour in the local area as you enjoy the charm of Shizuoka.
Itinerary
day1

Shinkansen Ticket Pick-up by Day Prior to Departure For the Shinkansen ticket pick-up, they can either be mailed to participants' accommodation or picked up at Tokyo City i.
Please pick up the tickets prior to Shinkansen departure.
*For detailed information, please refer to [Important Notes/Supplements: Meeting/Pick-up/Pick-up Location].
11:57-13:00 From Tokyo Station to Shin-Fuji Station Transfer from the Shinkansen to Shin-Fuji Station.
13:10- Meeting at Shin-Fuji Station & Head to Campsite A foreign language-speaking staff will pick up the participants.
14:00- Free Time at Campsite Upon arrival at the campsite, there will be an explanation of the facility from the staff.
Afterwards, you will have time to explore on your own.
18:00- BBQ at Campsite For dinner, savor some BBQ prepared with local ingredients.
day2

07:00- Morning Stroll to Shiraito Falls Enjoy a morning stroll with the local staff members.
08:30- Breakfast Bread will be served for breakfast.
10:30-14:00 Choice (1) Countryside Area Cycling Customers will participate in the Countryside Area Cycling Tour.
Soba noodles will be served for lunch.
10:30-14:00 Choice (2) Visit Organic Farm for Harvest Experience Participate on a harvesting experience tour at an organic farm.
BBQ will be served at the campsite for lunch.
14:00-15:00 After Tour Ends, Head to Shin-Fuji Station
15:10-15:41 From Shin-Fuji Station to Tokyo Station Transfer from the Shinkansen to Tokyo Station.
16:18-16:48 Arrive at Tokyo Station Tour ends after arrival at Tokyo Station.
Remarks:Planning Company:
JTB Global Marketing & Travel Inc.
Address: 2-3-14 Higashi Shinagawa, Shinagawa-ku, Tokyo
Japan Tourism Agency Registered Travel Agent (No. 1723)
A member of the Japan Association of Travel Agents
[Reception Method]
At reception, please show your reservation confirmation sheet, a printout of the reservation confirmation e-mail, or show the e-mail on your mobile device screen to staff.
[Operation Conditions/Tour Conditions]
- Participation is available for bookings of a total of 4 or more people including 2 or more adults.
- This is a request reservation tour.
Please understand in advance that reception of requests does not guarantee reservations.
After an inquiry on reception availability has been made and the tour service has been reserved, the application procedure is officially completed. Furthermore, answering may take some time (it is expected to take 5 business days at most).
- At the time of request reception, the cancellation policy does not apply, however, if there is a cancellation after an official booking has been made, the designated cancellation fee will be required.
[Request Reservation Method]
(1) Please create a reservation record on GE2. (Stock is at 0, so at this time reservations cannot be guaranteed.)
(2) After creating a request record, please include the following information and contact JTB Global Marketing & Travel staff via e-mail. 
- E-mail Address: sunrise01@gmt.jtb.jp
- E-mail Title: [Request Order] MM/DD Tour Name
- Body: PNR No. listing
(For accompanying infants, please write their age and height in the e-mail when making a request.)
(3) Contact will be provided by email after reception availability has been confirmed.
If reception is possible, reservation approval will be done by the JTB Global Marketing & Travel Sunrise Tours staff on GE2, and notification of completion for reservation acceptance will be provided by e-mail.
(At this point, the reservation procedure will finish.)
If reception cannot be done, contact will be provided by e-mail.
[Exemptions/Itinerary Guarantee: Itinerary/Destinations]
- Please cooperate with on-site coronavirus countermeasures.
- The Day 2 morning stroll to Shiraito Falls will be conducted even in the case of rain. In case of inclement weather, the tour will be guided to the Fujisan World Heritage Center, etc.
[Important Notes/Supplements: Meeting/Pick-up/Pick-up Location]
About Ticket Pick-up:
(1) If Hotel designated for ticket and itinerary delivery is selected:
Tickets will be sent by the day prior to tour departure. When booking, please enter the hotel's official name, address (all including postal code, prefecture, city, area number, etc.), and the name used for the hotel booking. Please be aware that service will not be possible if there are any errors in the information provided.
Please note that service to private residences or private lodgings (minpaku) is not available. Thank you for your understanding.
*Service to certain locations other than hotels, such as a business or embassy, is available. (Must be located in Japan.) Just as in the case for a hotel, please provide the address (all including postal code, prefecture, city, area number, etc.), and the name of the person to be sent to, along with contact information.
(2) If Tokyo City i is selected:
Please go to Tokyo City i and pick up the tickets on your own by the day prior to tour departure.
This is possible starting from 3 days before the tour departure date until the day prior to the departure date. *However, pick-up is not available on the day of booking and the day after booking (business days only).
https://en.tokyocity-i.jp/about/access/
Address: B1F KITTE JP Tower, 2-7-2 Marunouchi, Chiyoda-ku, Tokyo
Open Hours: 8:00 - 20:00 (Pick-up is not available outside of open hours.)
Closed Days: The last Sunday of June every year. Facility may be closed without notice due to sudden changes. For more details, please check the website.
*We will not be held responsible if the customer is late for the Shinkansen as a result of not being able to conduct pick-up during open hours.
*Tickets cannot be issued or changed at Tokyo City i.
[Meeting/Pick-up]
A foreign language-speaking staff will pick up the participants at Shin-Fuji Station.
The shuttle for the trip from Shin-Fuji Station to the campsite on Day 1 and from the local area tour end location to Shin-Fuji Station on Day 2 will be via the facility's free shuttle bus.
[Important Notes/Supplements: Regarding Children/Infants]
For Day 2 of the tour those 5 years of age and older can participate.
And, due to bicycle size constraints, the Countryside Area Cycling is open to participation for those with a height of at least 150 centimeters.
[Important Notes/Supplements: Regarding Meals]
- Day 1 Dinner: BBQ
- Day 2 Breakfast: Bread
- Day 3 Lunch: (1) Countryside Area Cycling: Soba noodles; (2) Harvesting Experience: BBQ
[Important Notes/Supplements: Accommodation Information]
Accommodation will be in a bell tent. Shower rooms and toilets are provided at a separate facility.