[Private Tour] Matcha Green Tea Tour in Uji with Tasty Sweets & World Heritage Sites
Tour Code :

PV0032N8S
Departs from :

Kyoto
Tour Brand :

Kansai (Kyoto, Osaka, Nara, etc.) Walking Tour
change(s) from the previous year :
Price(Lowest) :

¥12,000 ~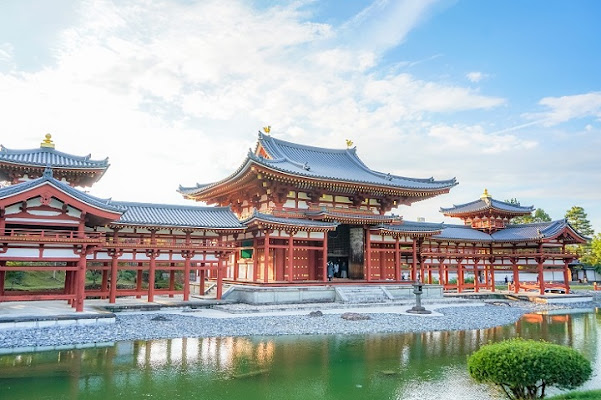 Overview :

1.There is the experience that there is only here to be able to make the powder of the Matcha by oneself!
2.Speaking of Japan, Kyoto, there will be many people remembering Matcha. The otomo tour that was full of Matcha was completed in Uji whom Matcha gave favorite you! In addition, I go to see world heritage in Uji, the Byodo-in Temple Chinese phoenix temple!
Uji is a big production center of the tea, and a lot of high quality Matcha, green tea is produced. Surprisingly various products using the Matcha range on the approach to a shrine to Byodo-in Temple. From dessert such as ice cream or the jelly to bread and soba or beer! It is recommended to Matcha and the person who hears it, and has the image that it is bitter and does not like.
In addition, I take you to the place that can experience the making of powder of the Matcha on this tour. Using the Matcha which we sawed by oneself, we make tea, and let's have deliciously.
It is only here Uji that can have experience that it is full of the beautiful Buddhist temple and Shinto shrine and Matcha of the world heritage!
3.I can saw Matcha using a stone mill by oneself! Will the Matcha which I saw it by oneself and made taste what kind of?
As Matcha is powder, I can knead it into various things. There is usually a lot of food of the strange Matcha taste that I cannot eat.
There is a secret world heritage other than Byodo-in Temple Chinese phoenix temple.
There is the legend concerning the rabbit, and Ujigami Jinja is a strange Shinto shrine that a paper fortune and a souvenir are full of rabbits.
4.This tour is the private tour that can be reserved from one to six people. I will not be with an unknown person and can enjoy a tour at own pace.
Itinerary
day1

-10:00 Meeting JR Uji Station ticket gate tax in proportion to the number of people
10:10-10:30 20(min) Tokichi Nakamura Head Office It is the head office of very popular well-established Chaya opening a store in not only Ginza and Osaka but also the foreign countries! There is a cafe without a line breaking off in extreme popularity, but effectively utilizes time by this plan! We take the taste of the cafe home, and let's taste it slowly later.
10:50-11:10 20(min) Masuda tea store The Matcha ice-cream cone which had topping of Matcha having just finished sawing it is popular! On the ice-cream cone of the heavy Matcha taste, I further sprinkled Matcha, and the ice-cream cone that I was glad to both a tongue and eyes was completed.
11:15-11:45 30(min) The Red Gate teahouse The window of the heart mark in the Monzen of Byodo-in Temple is Chaya of the mark!
I smell a fragrance of the tea slowly and I am taught how to serve delicious tea and can do it. Surprisingly, there is the Matcha beer, too! It works for beer good for the health, the health that was tired of walking.
11:50-12:50 60(min) Byodo-in Temple It is a world heritage and is a place drawn on the Japanese 10 yen coin!
The figure that a cinnabar red building and a golden Chinese phoenix are reflected in the pond beautifully is the best part! Thoroughly enjoy beauty letting you image the Land of Happiness.
13:05-13:55 50(min) Fukujuen Uji tea studio Make Matcha from raw materials of the Matcha by oneself, and make it, and drink; can experience it!
The delicate work that it is easy, but the difference in delicate fragrance comes out to by how to play that how to make saws a stone mill! What kind of taste will the Matcha which you sawed really become?
14:00-14:15 15(min) Uji Shrine It is a small Shinto shrine dedicated to God same as Ujigami Jinja.
There is a legend that a wish comes true when I look for three images of the rabbit here. Do experience, you who are slightly rare not try in the Shinto shrine either?
14:20-14:40 20(min) Ujigami Jinja Even Kyoto! There is a Shinto shrine registered as a world heritage here. It is a Shinto shrine said to be the oldest in what Japan for an existing company.
-15:00 JR Uji Station dispersal
Remarks:[operator] otomo 〒 113-0033 3-13-3, Hongo, Bunkyo-ku, Tokyo the third floor of Kazutomi Building
[receive 付方法]
Please show a reservation confirmation, the printout document of the reservation reconfirmation email or a mobile terminal screen in a reception desk.
[operation condition/participation condition]
・When it does not arrive at the designated starting place even if it is past 60 minutes from the time when I promised, I consider a tour to be cancellation. (No Show100%)
・Transportation expenses, admission, meal charges, souvenir, experience-based expense (eyes of the cash necessary to a minimum cheap: 3,100 yen/)
[immunity from responsibility, travel schedule insurance: an itinerary, a visit point]
Spot "Red Gate teahouse" is a holiday on Tuesday.
In addition, in the case of temporary closure, please note that you may perform the change to other spots about other spots.
[important points, supplement: meeting/pickup/exchange place]
・JR Uji Station ticket gate tax in proportion to the number of people (Nara Line from JR Kyoto Station about 30 minutes)
・The otomo guide waits with the board which LOGO of otomo was written for a mark.
[important points, supplement: a dress code, belongings]
・Please come in mobile clothes.