Noboribetsu Snow Monster Tree Viewing & Snowshoeing Tour (14:00 Dep.)
Tour Code :

ACT1H71104HHA
Departs from :
Tour Brand :

Hokkaido Experience Plan
change(s) from the previous year :
Price(Lowest) :

¥7,300 ~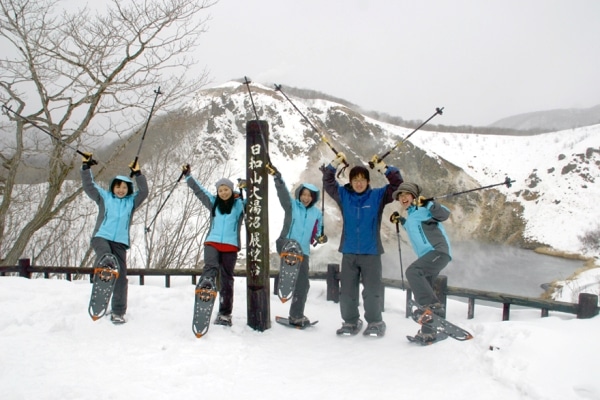 Overview :

1. Experience the vast nature of Hokkaido during winter in the popular Noboribetsu Onsen area.
You will be stunned by trees and mountains clad in frozen snow, shining in the light. Take a leisurely stroll through a magical world.
2. There is a marvelous world created by an isolated realm of nature spread throughout the forests of Noboribetsu.
Get away from the everyday hustle and bustle and dive into a snowy white world.
Gaze upon the majestic panoramas of Hokkaido. You can even catch a glimpse of Lake Toya and Mt. Yotei in the distance through the mountains.
3. Normally priced at JPY 8,000 per adult, this plan can be purchased here for just JPY 7,300!
4. An English-speaking guide will lead the tour, so you can enjoy yourself without having to worry about a language barrier.
Itinerary
day1

14:00- Depart Designated Noboribetsu Area Hotels Please meet in the hotel lobby or Donan Bus Terminal by 13:50.
*Please refer to [Important Notes/Supplements: Meeting/Pick-up/Pick-up Location].
14:45-15:45 60(min) Snow Monster Tree Viewing & Snowshoeing Tour Travel to Orofure Pass which connects Noboribetsu Onsen and Lake Toya. You will be stunned by trees and mountains clad in frozen snow, shining in the light. Take a leisurely stroll through a magical world of silvery white. You can also take a dive into a pile of snow.

*Please refer to [Operation Conditions/Tour Conditions].
-16:30 Tour Ends at Designated Noboribetsu Area Hotels
Remarks:Conducting Company:
Noboribetsu Gateway Center Inc.
Donan Bus Noboribetsu Onsen Bus Terminal, 26 Noboribetsu Onsen-cho, Noboribetsu-shi, Hokkaido
[Reception Method]
At reception, please show a printed copy of the reservation confirmation sheet or a printout of the reservation confirmation e-mail. Simply showing the confirmation on a mobile device screen will not be accepted.
[Operation Conditions/Tour Conditions]
Depending on operational circumstances, certain tour dates may be canceled, or tour operation may cease entirely.
In case of congestion, you may be asked to join another group.
Please refrain from consuming alcohol before the tour, and refrain from consuming alcohol, eating and smoking during the tour.
Please refrain from using cell phones while walking.
Only those who are feeling completely healthy should participate. Those who are feeling ill should not attempt to participate on the tour.
[Exemptions/Itinerary Guarantee: Itinerary/Destinations]
Depending on weather and snow conditions, tour operation may not be possible. A full refund will be issued in case of cancellation. Please contact the agent that handled your tour booking within 7 days of the planned tour date.
Those that fail to bring the reservation confirmation sheet may not be able to participate. Refunds will not be issued in such cases.
No compensation will be provided for transportation expenses to the location or accommodation costs even if the tour is canceled after customers have traveled to the location.
Please note that if a customer is unable to attend the tour owing to their own circumstances, refunds will not be issued.
[Important Notes/Supplements: Meeting/Pick-up/Pick-up Location]
This is an unguided plan, so please go to the meeting location on your own.
Please make sure to select a meeting location. If your meeting location changes at a later date, please make sure to change your reservation (change of meeting location).
Please make sure to contact us if your meeting location changes. There will be no pick-up at hotels that have not been reserved.
On the day, if customers do not arrive at the meeting location on time, they will have their bookings canceled.
The meeting time may vary by about 5-10 minutes depending on the arrival of other customers.
Please arrive at least 10 minutes prior to the departure time.
Please note that refunds cannot be issued in the event that a customer did not make it on time due to their own circumstances.
There is a free shuttle service from each lodging in the Noboribetsu district operated by the conducting company. As public transportation to the location is not available, please use the free shuttle service.
*The shuttle will travel around each hotel, so actual departure time may vary. Thank you for your understanding.
Available Pick-up Facilities: Dai-ichi Takimotokan, Noboribetsu Grand Hotel, Hotel Mahoroba, Noboribetsu Sekisuitei, Noboribetsu Manseikaku, Hotel Yumoto Noboribetsu, Park Hotel Miyabitei, Takimoto Inn, Takinoya, Kashotei Hanaya, Oyado Kiyomizuya, Takinoya Bekkan Tamanoyu, Bourou Noguchi Noboribetsu, Ryotei Hanayura, Donan Bus Terminal
The meeting location will be the hotel lobby for customers staying at an accommodation in the Noboribetsu area, or the Donan Bus Terminal for customers staying at accommodations outside Noboribetsu.
The tour end location will be the same as the meeting location.
[Important Notes/Supplements: Regarding Children/Infants]
Bookings cannot be made for groups composed entirely of children. Please make sure to book them in the same group as an adult customer.
[Important Notes/Supplements: What to Wear/Bring]
Please wear warm clothing that can protect against wind and rain. Dressing in layers is preferred. Warm winter items such as a scarf, gloves, and hat are required. Skirts and high heels are not allowed. Please wear warm clothing which is easy to move around in, such as skiwear, and trekking shoes or similar footwear. Please wear warm, waterproof high-cut boots. Customers will be wearing snowshoes over their own footwear. Note that footwear and pant legs may get wet on the tour.