Mud Volcano Snow Walk Experience in Akan-Mashu National Park (With English-speaking Guide)
Tour Code :

ACT1H71554HHB
Departs from :
Tour Brand :

Hokkaido Experience Plan
change(s) from the previous year :
Price(Lowest) :

¥7,600 ~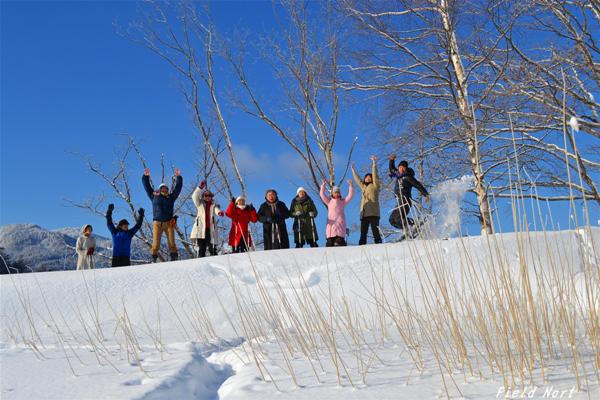 Overview :

1. On this walking tour, put on a pair of snowshoes and experience the forests and mud volcanoes in a national park. The tour is accompanied by an English-speaking guide.
2. Everyone from beginners to pros can easily join!
3. Wear snow shoes, walk through the snow-covered Akan forests, and see up-close some "bokke," 90-degree-Celsius bubbling mud volcanoes.
Itinerary
day1

-09:00 Meet at Lake Akan Tsuruga Wings 1F Tsuruga Adventure Base SIRI Reception Please refer to [Reception Method] & [What to Wear/Bring] in the Remarks.
09:10-11:10 120(min) Bokke no Mori Snow Walk Experience Wear snowshoes, take a walk through the sn
Remarks:Conducting Company: Tsuruga Adventure Base Siri
4-6-10 Akanko Onsen, Akan-cho, Kushiro-shi, Hokkaido
[Reception Method]
At reception, please show a printed copy of the reservation confirmation sheet or a printout of the reservation confirmation e-mail. Simply showing the confirmation on a mobile device screen will not be accepted.
[Operation Conditions/Tour Conditions]
In case of congestion, you may be asked to join another group.
Please refrain from consuming alcohol before the tour, and refrain from consuming alcohol, eating and smoking during the tour.
Only those who are feeling completely healthy should participate. Those who are feeling ill should not attempt to participate on the tour.
[Exemptions/Itinerary Guarantee: Itinerary/Destinations]
Depending on operational circumstances, certain tour dates may be canceled, or tour operation may cease entirely.
Depending on weather and snow conditions, tour operation may not be possible. In case of cancellation of operation, a full refund will be issued. Please contact the agent that handled your tour booking within 7 days of the planned tour date.
Furthermore, no compensation will be provided for transportation expenses to and from the meeting location, accommodation costs, etc. even in case of cancellation. Thank you for your understanding.
Those that fail to bring the reservation confirmation sheet may not be able to participate. No refunds will be issued in such cases.
Please note that if a customer is unable to attend the tour due to their own circumstances no refunds will be issued.
Depending on weather and nature conditions on the day, the course, destination, and itinerary may be changed for safety reasons. Even after the program has started, the course may be changed or canceled partway through as decided by the guide due to a sudden change in weather or other reason. In general, refunds will not be issued after the program has begun. In case of inclement weather, the program may be canceled as decided by the guide on the day. Thank you for your understanding.
All programs are under natural conditions. Unlike in an amusement park built with safety features, there may be dangerous conditions due to changes in nature.
For safety, please keep in mind the safety orientation (field use time and safety precautions specified at the beginning of the program) and follow the guide's instructions during the activity.
Despite participating in a program, in general, customers must take care of themselves in outdoor activities. Unforeseen situations may occur in a natural environment. Please take great care, and be responsible and mindful throughout the activity.
The facility liability insurance charge is included in case of an accident. While safety precautions are taken, it is also recommended for participants to enroll in a separate accident insurance.
[Important Notes/Supplements: Meeting/Pick-up/Pick-up Location]
Meeting Location: Lake Akan Tsuruga Wings 1F Tsuruga Adventure Base SIRI Reception
Meeting Time: 10 minutes before tour starts
This is an unguided plan, so please go to the meeting location on your own.
[Important Notes/Supplements: Regarding Children/Infants]
Children 6 years of age and under may not participate.
Bookings cannot be made for groups composed entirely of children.
[Important Notes/Supplements: What to Wear/Bring]
Please wear warm clothing that can protect against wind and rain. Dressing in layers is preferred. Warm winter items such as a scarf, gloves, hat, etc. and sunglasses are required. Skirts and high heels are not allowed. Please wear warm clothing which is easy to move around in, such as skiwear. Please wear warm, waterproof, high-cut winter snow boots. Customers will be wearing snowshoes over their own footwear. Note that footwear and pant legs may get wet on the tour.
It is possible to bring drinks along during the tour, but as the temperatures are low, please be aware that drinks inside PET bottles may freeze. Use a vacuum flask to keep drinks from freezing.