Drift Ice Sightseeing on the Garinko-go II Icebreaker from Monbetsu (Cruise No. 6, 13:15 Departure)
Tour Code :

ACT1H88803HHB
Departs from :
Tour Brand :

Hokkaido Experience Plan
change(s) from the previous year :
Price(Lowest) :

¥2,900 ~ (until Mar., 2021)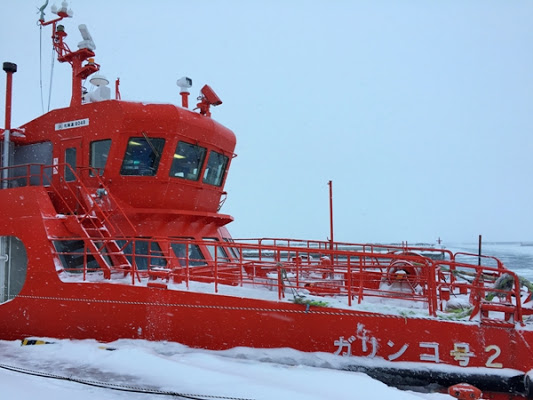 Overview :

1. Hop aboard the Garinko-go II, an icebreaker ship that drills through thick ice over the ocean, breaking the icy layer into pieces, as it moves forward.
2. Normally priced at JPY 3,000 per adult, this tour is available at a JPY 100 discount, bringing the price to JPY 2,900.
3. Enjoy being surrounded by vast nature as you lay your eyes on the white Okhotsk Sea, off the northernmost coast of Japan.
4. The ship makes use of its most notable feature, two great Archimedean screws at the front, to drill through the ice.
Itinerary
day1

13:00- Meet at Kaiyokoryukan Garinko-go Ticket Counter
13:15-14:45 90(min) Board the Garinko-go II Icebreaker Ship Enjoy a cruise aboard the icebreaker ship Garinko-go II. Feel the powerful force as the ship advances through the ocean, drilling through the thick layer of ice covering the Okhotsk Sea off the northernmost coast of Japan. Keep your eyes peeled as you might see some seals or Steller's sea eagles resting on the ice!
-14:45 Tour ends after disembarking the boat.
Remarks:Conducting Company:
Garinko & Okhotsk Tower Co. Ltd., Inc.
1 Kaiyokoen, Monbetsu-shi, Hokkaido
[Reception Method]
At reception, please show a printed copy of the reservation confirmation sheet or a printout of the reservation confirmation e-mail. Simply showing the confirmation on a mobile device screen will not be accepted.
[Operation Conditions/Tour Conditions]
Important: Minimum of 10 participants; Operation determined 2 days prior.

The cruise may be canceled depending on weather conditions, or when the minimum number of participants is not met.
In this case, customers will be notified via the e-mail address or phone number specified by the customer at the time of booking.
When booking, please be sure to enter correctly an email address or phone number at which you can be reached during your trip.
In case of cruise cancellation, customers will be contacted via e-mail or phone the day before or the day of the tour before the scheduled departure time. (There will be no notification in case status is operational)
Please make sure to check if you have been contacted.

Customers may check the operation status themselves directly.
- Conducting Company (Garinko & Okhotsk Tower) Website: https://o-tower.co.jp/publics/index/109/#googtrans(ja)
The operation status table can be checked from the above link.

If the cruise is canceled due to inclement weather or inability to meet the minimum number of participants, a full refund will be issued.
Please contact the agent that handled your tour booking within 7 days of the planned tour date.
Full refunds are not issued at the boarding counter. Refunds will be issued by the travel agent where you made your booking.
However, please note that if a customer is unable to attend the tour owing to their own circumstances no refunds will be issued.
Please note that no compensation will be provided for transportation expenses to the location or accommodation charges even if the tour is canceled.
[Exemptions/Itinerary Guarantee: Itinerary/Destinations]
Customers are asked to make their way to the location by 15 minutes in advance for the Garinko-go II cruise departure. Make sure to check in advance the transportation method from your previous night's accommodation and travel time for the tour day, and reserve a cruise that will allow you to arrive on time.
As the roads are frozen, customers who will be arriving by car are advised to leave plenty of time to reach the location.
Please note that refunds cannot be issued in the event that a customer did not make it to the cruise departure time due to their own circumstances.
*If customers will be driving a car, on winter roads it will take about 2 hours and 30 minutes from Abashiri City, and about 2 hours and 50 minutes from Asahikawa area.
Roads may also be closed due to a snowstorm, etc., so please be careful when booking your previous night's accommodation.
As drift ice is a natural phenomenon, it may not be visible along the route. In such cases, the cruise will be for sightseeing only (around 60 min).
Please note that even if there is no drift ice along the route, this will not be a cause for tour cancellation.
In this case, a partial refund of JPY 400 per adult and JPY 200 per child will be issued.
For cancellations owing to absence of drift ice, the designated cancellation fee will apply.
Due to weather conditions, facility/equipment conditions, etc. on the day, customers may be notified of cancellation of operation after arrival.
Even in such cases, please understand that round-trip transportation expenses to and from the location cannot be reimbursed.
[Important Notes/Supplements: Meeting/Pick-up/Pick-up Location]
Meeting Location/Time: Kaiyokoryukan Garinko-go Ticket Counter, 13:00
[Important Notes/Supplements: Regarding Children/Infants]
Reservations for children only are not accepted. Please make a reservation with adult accompaniment.