Tea Field Hike, Tea Harvest Experience, and Tea Tasting with Tea Leaf Tempura & Selectable Lunch at d:matcha Kyoto
Tour Code :

ACT1N91114NNB
Departs from :
Tour Brand :

Kyoto Experience Plan
change(s) from the previous year :
Price(Lowest) :

¥9,200 ~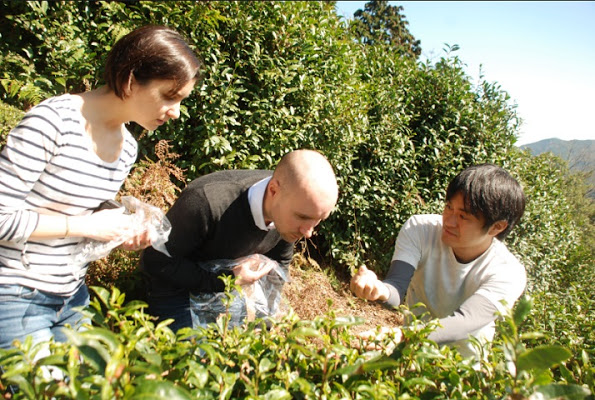 Overview :

1. Experience walking through tea fields and tea harvesting in Wazuka, one of the biggest production regions of Uji tea. An English-speaking assistant will guide participants. Enjoy an interactive talk with tea farmers.
2. Enjoy tasting the difference between 3 kinds of iconic Japanese tea served as sencha tea.
3. At the end, enjoy a lunch made with organic tea leaves picked from tea fields at d:matcha, as well as shopping.
4. As a perk of this plan, customers will receive a present of 1 bag of sencha green tea!
Itinerary
day1

09:30- Meet at d:matcha Kyoto Simple explanation (briefing) in the shop.
10:00-10:30 30(min) Tea Field Hiking in Yubune District Talk a stroll for about 2 km through the tea fields spread out at the foot of the moss-covered steps and grounds of Hakusan Shrine.
10:30-11:10 40(min) Tea Harvesting in Yubune District Hear tricks from the tea field owner about making high quality tea and experience tea harvesting. After the tea harvesting, participants will return to the cafe and enjoy the tea leaves as tempura.
11:30-12:10 40(min) Tea Tasting Taste 3 varieties of wazuka tea (single origin: Yabukita, Okumidori, Goko).
12:15-13:00 45(min) Lunch & Shopping Enjoy a lunch made with organic tea leaves, as well as shopping.
Remarks:Conducting Company: Kyoto Yamashiro Region Promotion Company (Ocha no Kyoto DMO) 
         2F Keihan Uji Bldg., 7-8 Uji Otsukata, Uji-shi, Kyoto
[Reception Method]
At reception, please show your reservation confirmation sheet, a printout of the reservation confirmation e-mail, or show the e-mail on your mobile device screen to staff.
[Operation Conditions/Tour Conditions]
If the minimum number of participants (2) is not met by 5 days before the scheduled date, the tour on that date may be canceled.
[Exemptions/Itinerary Guarantee: Itinerary/Destinations]
This is an unguided plan, so please go to the meeting location on your own.
Participants on this tour ride along with customers on other tours.
Explanations and information provided on site are in English only. Thank you for your understanding.
Depending on operational circumstances, certain tour dates may be canceled, or tour operation may cease entirely.
[Important Notes/Supplements: Meeting/Pick-up/Pick-up Location]
d:matcha Kyoto / 9:30
Please make sure not to be late to the meeting time.
[Important Notes/Supplements: Children/Infants]
For the experience, children age 3 and older can participate. Children will be served the same menu as adults.
Also, bookings for infants (age 0-2) will not be provided with meals.
[Important Notes/Supplements: Regarding Meals]
Menu:
Participants can enjoy 1 of the following:
(1) Chicken Curry with matcha-wasabi sauce
(2) Tencha Tan Tan Noodles sprinkled with matcha green tea leaves
(3) Pasta with Squid and Sencha tea leaves in Japanese herb sauce
After the tea harvesting experience, enjoy the tea leaves as tempura.
*For customers that would like a vegetarian menu, please inform us at the time of booking.
*The meal menu is subject to partial changes.
*Children will also be served the same meal.
[Important Notes/Supplements: Facility Information]
d:matcha Kyoto
17 Kyo-machi, Kamatsuka, Wazuka-cho, Soraku-gun, Kyoto
Tel: 0774-74-8205
Access:
- By Public Transportation
Take the JR Nara Line or Kansai Main Line to JR Kamo Station, head to the west exit bus terminal and take a No. 66 Nara Kotsu Bus bound for Wazuka-kosugi. Get off at the Naka-wazuka bus stop and it is right nearby.
- By Car
About 60 min by car from Kyoto City (using expressways); about 60 min by car from Osaka City.
[Free Shuttle]
A free shuttle service is available from JR Kamo Station. For those interested, please contact the Ocha no Kyoto DMO Tour Center (Email: t-travel@kyototeacountry.jp) on your own. Furthermore, shuttle service is operated by the facility and is not included as a part of this plan.
[Important Notes/Supplements: What to Wear/Bring]
As this is a walking tour, please wear shoes and clothing that are suitable for walking. (A distance of about 2 km will be covered on this tour.)