Kyoto Kibune River Terrace Dinner Plan at Kibunesou
Tour Code :

FD0002N4C
Departs from :

Kyoto
Tour Brand :

Kyoto Meal Plan
change(s) from the previous year :
Price(Lowest) :

¥12,000 ~ (until Sep., 2021)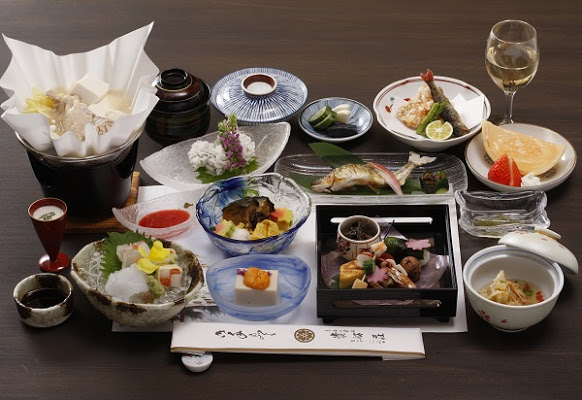 Overview :

1. Only available during a limited time of the year, from May to September! Enjoy dinner on a platform out over the river as the water flows right beneath you at Kibune, a small town in a forested valley in the northern mountains of Kyoto.
2. The platform is only about a foot above the river surface, making the dinner experience an excellent way to escape the summer heat.
3. Savor exquisite Kyoto cuisine while enjoying the pleasant sounds of the nearby waterfall.
Itinerary
day1

17:20- Go to Kibunesou (Kibune River Terrace)
17:30- 120(min) River Terrace Cuisine
-19:30 Meal Ends After the meal, please head to your next destination on your own.
[Remarks]
A drop-off service to Kibuneguchi Station after the dinner plan may be available if requested directly at the restaurant.
Remarks:Conducting Company: Kibunesou
 Address: 50 Kurama Kibune-cho, Sakyo-ku, Kyoto-shi, Kyoto
[Reception Method]
At reception, please show your reservation confirmation sheet, a printout of the reservation confirmation e-mail, or show the e-mail on your mobile device screen to staff.
[Exemptions/Itinerary Guarantee: Itinerary/Destinations]
Transportation not included. Participants will need to make their own way to the restaurant.
Specific seating may not be reserved. Tatami floor seats will be allocated on arrival.
In cases of bad weather (heavy rain, etc.), the water level may rise and the terrace dinner may not be possible for safety reasons.
In such cases, this may be changed to a restaurant meal and tables may be shared with other customers. Please note that such a decision is made on the day, and refunds will not be provided for this reason.
Thank you for your understanding.
Free pick-up service is available from Kibuneguchi Station (Eizan Electric Railway Kurama Line) if requested at the time of booking. Please contact the restaurant via phone with the estimated time of arrival at Kibuneguchi Station, before boarding the Eizan Electric Railway. As traffic congestion is expected during the summer season, participants may be asked to wait for the pick-up bus to arrive at Kibuneguchi Station. A drop-off service to Kibuneguchi Station after the dinner plan may be available if requested directly at the restaurant.
There are steps towards the river terrace seating. Please be aware that wheelchairs may not be used here.
[Important Notes/Supplements: Meeting/Pick-up/Pick-up Location]
Kibunesou / 17:20
Reservation will be made in advance, so please make sure to arrive on time. Please make sure not to be late for the reserved time.
[Important Notes/Supplements: Regarding Meals]
Menu:
Hassun (seasonal dish), starter, mukozuke (seasonal sashimi, etc.), grilled dish, takiawase, deep-fried dish, small hot pot, steamed dish, rice, and dessert.
*Vegetarian options are not available.
*Children will be served a Shokado Bento Box Meal.
Drink charges are not included with this plan Please pay at the location.
[Important Notes/Supplements: Facility Information]
Kibunesou
Address: 50 Kurama Kibune-cho, Sakyo-ku, Kyoto-shi, Kyoto
From Kibuneguchi Station (Eizan Electric Railway Kurama Line): About 10 minutes by shuttle bus.
Tel: 075-741-2222