Kyoto Night Tour
Tour Code :

GU2007N2S
Departs from :

Kyoto
Tour Brand :

Kyoto Meal Plan
change(s) from the previous year :
Price(Lowest) :

¥12,800 ~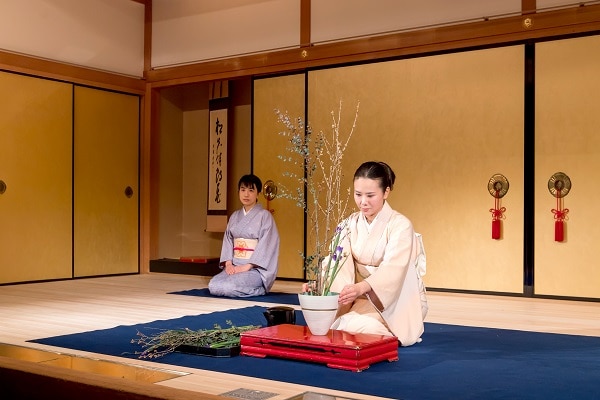 Overview :

1. This tour is accompanied by a National Government Licensed English Guide Interpreter. At Gion Corner, see traditional performing arts such as Maiko (apprentice geisha) dancing, Bunraku (puppet theater), and Kyogen (comic theater).
2. Experience a candle-lit tea ceremony, something available only on this tour.
3. Enjoy a Zen-style dinner focused on vegetarian cuisine.
Itinerary
day1

17:00-17:30 Depart from Hotel in Kyoto City Go to Gion Corner by taxi
18:00- 50(min) Gion Corner This tour allows you to enjoy watching/experiencing Japanese traditional performances, including Japanese traditional dance, Noh, Kyogen, Bunraku, koto, tea ceremony, and Japanese traditional flower arrangement.
Please refer to [Exemptions/Itinerary Guarantee: Itinerary/Destinations] in the Remarks.
Walk to Gion Historical Preservation District Take a stroll around the Gion Historical Preservation District while heading from the Yoshi-ima Ryokan to Gion Corner. Pass through the narrow streets with many old ochaya (Japanese-style teahouses providing meals and performances of maiko girls and geiko women).
70(min) Tea Ceremony and Dinner at Yoshi-ima Ryokan Enjoy an exclusive private evening tea ceremony with candle light at Yoshi-ima Ryokan's tea ceremony room Kurenaitei. Dinner will be served in Zen style, a simple but well-balanced dietetic meal now attracting global attention.
Please refer to [Regarding Meals] in the remarks.
21:00-21:30 Tour Ends at Hotels in Kyoto City Participants will be dropped off via taxi to Miyako Hotel Kyoto Hachijo (formerly New Miyako Hotel), Kyoto Hotel Okura, or Kyoto Tower Hotel (Kyoto Station Karasuma Exit).
Remarks:Planning Company: JTB Global Marketing & Travel Inc.
Address: 2-3-14 Higashi Shinagawa, Shinagawa-ku, Tokyo
Japan Tourism Agency Registered Travel Agent (No. 1723)
A member of the Japan Association of Travel Agents
[Reception Method]
At reception, please show your reservation confirmation sheet, a printout of the reservation confirmation e-mail, or show the e-mail on your mobile device screen to staff.
[Operation Conditions/Tour Conditions]
If the minimum number of participants (2) is not met by 4 days before the scheduled date, the tour on that date may be canceled.
Connections from Kyoto Afternoon Tour and Kyoto 1-Day Tour are available. In such cases please make the connection at Kyoto Hotel Okura.
Connections from Nara Afternoon Tour, 1-Day Kyoto & Nara Tour, and 1-Day Uji & Nara Tour cannot be made to this tour.
Customers under 6 years of age are not permitted. Thank you for your understanding.
[Exemptions/Itinerary Guarantee: Itinerary/Destinations]
Please be aware that at Gion Corner, participants may have to watch while standing if it is crowded.
[Important Notes/Supplements: Meeting/Pick-up/Pick-up Location]
Miyako Hotel Kyoto Hachijo (Formerly: New Miyako Hotel): 16:50
Kyoto Hotel Okura: 17:20
[Important Notes/Supplements: Regarding Meals]
Buddhist vegetarian cuisine is served for dinner, so we welcome vegetarian participants. However, bonito stock is used in the tempura dipping sauce. Salt can be used instead of the tempura dipping sauce.
The ingredients of tempura are tofu, namafu wheat gluten, yuba tofu skin, and vegetables in season, such as eggplants, lotus root, ginger, and shiitake mushrooms. Miso soup and rice are also served.
[Important Notes/Supplements: What to Wear/Bring]
Casual clothing is permitted.