1-Day Lake Toya & Lake Shikotsu Ice Festival Sightseeing Taxi Plan (Taxi Van, 5 People, Round Trip from Sapporo)
Tour Code :

PTX1H84801HHA
Departs from :

Sapporo
Tour Brand :

Hokkaido Taxi Plan
change(s) from the previous year :
Price(Lowest) :

¥14,500 ~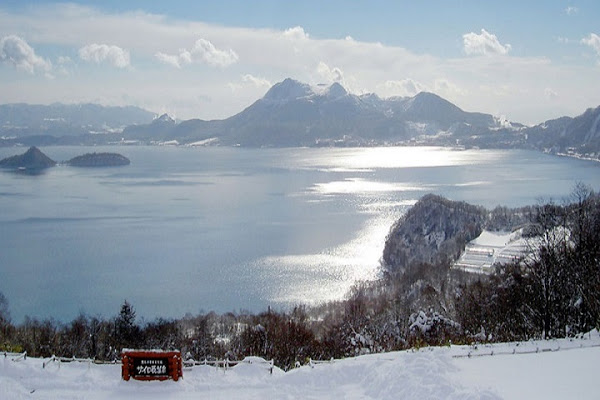 Overview :

1. An English-speaking taxi driver will be assigned to the tour.
2. Go sightseeing at Lake Toya and Showa Shinzan. Feel the stirring of the earth at this vast land registered as a UNESCO Global Geopark.
3. Visit the Lake Shikotsu Ice Festival. Behold impressive ice sculptures created using sprays of water from Lake Shikotsu. Fully enjoy one of Hokkaido's iconic winter festivals.
4. There is Wi-Fi connection and mineral water (1 per person) provided in the taxi.
Itinerary
day1

08:45-09:00 15(min) Meet at & Depart from Pick-up Location in Sapporo City Please refer to [Important Notes/Supplements: Meeting/Pick-up/Pick-up Location] in the Remarks field.
11:30-12:00 30(min) Toya Lakeside Sightseeing Famous for having a non-freezing lake surface even in winter.
Designated as Shikotsu-Toya National Park, and registered as a global geopark under the name Toya-Usu UNESCO Global Geopark.
12:30-14:30 120(min) Showa Shinzan Sightseeing & Lunch (Lunch not included) This active volcano was formed as wheat fields were elevated during an eruption in 1943. Visitors can see up close the reddish brown surface of the mountain and the steam rising up into the air, and feel the volcanic activity in the area.
Nearby are many sightseeing facilities such as a bear park and a ropeway, as well as restaurants and souvenir shops. Please have lunch on your own.
16:00-17:00 60(min) Lake Shikotsu Ice Festival Look forward to one of Hokkaido's must-see attractions in winter! Water from Lake Shikotsu is run through sprinklers and gushes out, creating fascinating works of art like in a fantasy world as it freezes. At night, different colors of lights are used to illuminate the frozen water, making a magical sight. Customers are free to explore the venue on their own. *When entering, a contribution of JPY 300 per person is required.
-19:00 Arrive at Hotel in Sapporo City, Tour Ends
Remarks:Planning Company:
JTB Global Marketing & Travel Inc.
Address: 2-3-14 Higashi Shinagawa, Shinagawa-ku, Tokyo
Japan Tourism Agency Registered Travel Agent (No. 1723)
A member of the Japan Association of Travel Agents
[Reception Method]
At reception, please show a printed copy of the reservation confirmation sheet or a printout of the reservation confirmation e-mail. Simply showing the confirmation on a mobile device screen will not be accepted.
[Operation Conditions/Tour Conditions]
Tour operation is guaranteed with 5 people. This plan will be using a taxi van for 5 people.
There are other plans accommodating 2, 3, 4, or 6 people. Please book according to the number of participants.
Depending on operational circumstances, certain tour dates may be canceled, or tour operation may cease entirely.
[Exemptions/Itinerary Guarantee: Itinerary/Destinations]
The driver speaks English, but please note that the driver will not accompany customers when they disembark for sightseeing.
Admission to sightseeing locations and lunch charges are not included. Customers are to pay for the required charges themselves on the day.
When entering the Lake Shikotsu Ice Festival, a contribution of JPY 300 per person is required.
[Important Notes/Supplements: Meeting/Pick-up/Pick-up Location]
Please be by the front desk of the pick-up hotel designated at the time of booking by 8:45. The taxi driver will be waiting holding a placard with the name of the representative.
[Important Notes/Supplements: Guide/Tour Conductor]
There will be no accompanying sightseeing guide or tour conductor. The English-speaking taxi driver will provide guidance on board.
[Important Notes/Supplements: Regarding Children/Infants]
Groups composed entirely of children are not permitted to join. They must be accompanied by an adult.
[Important Notes/Supplements: Accommodation Information]
Please inform us of your accommodation and contact details for the day prior to the tour. As departure will be early, please note that this tour is limited to customers staying at accommodations within Sapporo City for the night prior to the tour.
If the tour is canceled, customers will be notified by the conducting company or their travel agent.
*When booking this plan, please use the same group representative name as the one for your prior night's hotel. Please select your prior night's hotel for the pick-up location.
[Important Notes/Supplements: What to Wear/Bring]
This tour includes a walk outdoors. Please wear warm clothing. Preparing hand warmers, etc. is recommended.
For luggage, the vehicle can fit 5-6 suitcases of 70 L size (typically for a 6-day 5-night stay). The vehicle is a van type. Suitcase(s) may be loaded into the rear space.