[Request Reservation] Aso-Kusasenri Course Round-trip from Kumamoto (Sedan Plan, 2 People)
Tour Code :

PV0003Q8A
Departs from :

Kumamoto
Tour Brand :

Kyushu Taxi Plan
change(s) from the previous year :
Price(Lowest) :

¥18,000 ~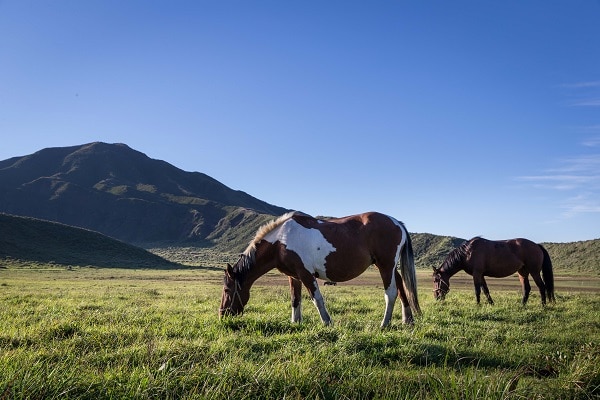 Overview :

1. This is one of Sunrise Tours' first request booking-style tours!
A request by e-mail is required. Please check the remarks for the reservation method.
2. Take a tour around the vast grasslands of Aso, a composite volcano that with its caldera is among the largest in the world.
3. The tour will not ride with other groups. Wi-Fi connection is available inside the taxi using an exclusive router.
4. Round-trip shuttle service is available for hotel accommodations (except private lodgings (minpaku) facilities) in central Kumamoto City.
5. Enjoy sightseeing aboard a taxi as the driver makes use of a multilingual interpretation service, such as Pocketalk, to assist customers in their preferred language.
Itinerary
day1

80(min) Depart from designated hotel (excluding private facilities (minpaku)) in Kumamoto City A taxi will pick up participants from the main entrance of their hotel (excluding private facilities (minpaku)).
Travel via Expressway via Tawarayama Tunnel
40(min) Asobou no Sato Kugino Roadside Station Enjoy shopping for local products at this roadside station offering scenic views of the Five Peaks of Aso.
20(min) Transfer
30(min) Shirakawa Riverhead Counted among Japan's 100 Famous Waters, this one springs out 60 tons of water at a constant 14 degrees per minute.
30(min) Transfer
60(min) Kusasenrigahama (Kusasenri Plain) Enjoy taking a peek at the Nakadake Crater spewing out smoke, or go horseback riding amidst Kyushu's most prominent grasslands scenery. Please have a meal on your own at a restaurant.
90(min) Arrive at Hotel in Kumamoto City Participants will be dropped off at their hotel.
Remarks:Planning Company: JTB Global Marketing & Travel Inc.
Address: 2-3-14 Higashi Shinagawa, Shinagawa-ku, Tokyo
Japan Tourism Agency Registered Travel Agent (No. 1723)
A member of the Japan Association of Travel Agents
[Reception Method]
At reception, please show your reservation confirmation sheet, a printout of the reservation confirmation e-mail, or show the e-mail on your mobile device screen to staff.
[Operation Conditions/Tour Conditions]
1. This is a request reservation tour.
Please understand in advance that reception of requests does not guarantee reservations.
After an inquiry on reception availability has been made and the tour service has been reserved, the application procedure is officially completed. Furthermore, answering may take some time (it is expected to take 5 business days at most).

2. At the time of request reception, the cancellation policy does not apply, however, if there is a cancellation after an official booking has been made, the designated cancellation fee will be required.

3. Request Reservation Method
(1) Please create a reservation record on GE2. (Stock is at 0, so at this time reservations cannot be guaranteed.
(2) After creating a request record, please include the following information and contact JTB Global Marketing & Travel staff via e-mail. (For accompanying infants, please write their age and height in the e-mail when making a request.)
(3) Contact will be provided by email after reception availability has been confirmed.
If reception is possible, reservation approval will be done by Sunrise on GE2, and notification of completion for reservation acceptance will be provided by e-mail.
(At this point, the reservation procedure will finish.)
If reception cannot be done, contact will be provided by e-mail.
[Exemptions/Itinerary Guarantee: Itinerary/Destinations]
This tour will visit the sightseeing locations listed on the itinerary. Please note that requests for changes to the itinerary cannot be accepted regardless of whether they are made in advance or on the day.
However, if destinations cannot be visited due to facility circumstances, weather conditions, road closures, or effects of ongoing events, etc., any of the following alternative destinations may be visited instead.
Alternative Destinations: Instead of Aso Kusasenri, the tour will head back right away to Kumamoto City for Kumamoto Josaien.
[Important Notes/Supplements: Meeting/Pick-up/Pick-up Location]
Pick-up and drop-off services are available for hotels in Kumamoto City.
Pick-up and drop-off are not available for facilities other than hotels.
[Important Notes/Supplements: Guide/Tour Conductor]
This tour is not accompanied by a National Government Licensed Guide. If one is required, preparations can be made for a separate fee. For those who would like a guide, please make an inquiry at time of booking. An additional fee will be incurred in accordance with the target language.
[Important Notes/Supplements: Regarding Children/Infants]
Children 0-5 years old are legally required to use a child seat. Please make sure to report this.
For accompanying infants, please write their age and height in the e-mail when making a request.
[Important Notes/Supplements: Regarding Meals]
Meals are not included in the tour booking charge.
[Important Notes/Supplements: Hired Car Company] Higo Taxi