Private Tour - Hakone Day Trip! A Tour to Explore All Must-Sees!
Tour Code :

PV0011J4S
Departs from :

Tokyo
Tour Brand :

Tokyo Walking Tour
change(s) from the previous year :
Price(Lowest) :

¥33,500 ~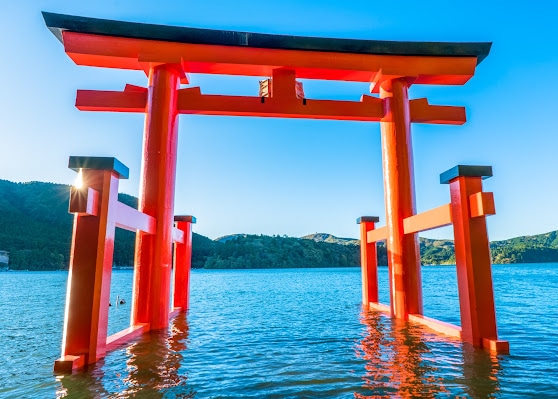 Overview :

Show you around all the highlights of the hot spring town, Hakone
Hakone, 75 minutes away from central Tokyo, is famous as a refreshing and scenery sightseeing destination. The view of Hakone is fascinating because of nature. For example, the famous Lake Ashi and Owakudani were created by Mt Hakone's volcanic eruption about 3,000 years ago, and you can see the fumarolic area where white smoke rises in Owakudani. Also, you can see Mt. Fuji in from Lake Ashi and the view is breathtaking!
Other than those nature aspects, Hakone is also known as the art spot. There are now many art museums that combine rich nature with art as a place to attract people. This tour will take you all must-see highlights of Hakone by hiking, cable car, ropeway, boat, and bus.
- You can enjoy the view of the seasonal nature from the train.
- Overlooking the volcanic fumaroles from the ropeway.
- Pleasure by boat on the lake where Mt. Fuji looks beautiful.
- You can visit a shrine with a Torii (wooden gate) floating on the lake.
This is a private tour that can be booked for 1-6 people. You can enjoy the tour at your own pace and not with other attendees.
Itinerary
day1

10:00- Meet at Hakone Yumoto Station Hakone Yumoto Station
10:05-10:15 10(min) Ajisai Bridge A beautiful vermilion bridge, located near Hakone-Yumoto Station, which is famous as a photo spot. Hydrangea is a flower that blooms in June, and Hakone is also a famous hydrangea, so it was named Hydrangea Bridge.
10:55-12:40 105(min) The Hakone Open-Air Museum This is an art museum that displays about 120 sculptures by artists who represent the modern era. Artworks are displayed on the vast green grounds, and you can take pictures as part of the artwork. You can also see the magnificent view of the Mt. Hakone!
12:55-13:30 35(min) Hakone Tozan Cablecar Visit Owakudani at an altitude of 1,044m by the cablecar. When you are on the ropeway, you will see the smoke of volcano Owakudani which suddenly appears in front of you. If the weather is nice, you can also enjoy the beautiful view of Mt. Fuji.
13:35-14:15 40(min) Owakudani Owakudani, created by the eruption of Hakone Volcano 3,000 years ago, still emits white smoke from all over the valley. Unlike Hakone, which is full of greenery, the rock surface is exposed and vegetation does not grow throughout the year. This is one of the must-see Hakone symbols where you can feel the breath of the earth.
14:55-15:25 30(min) Hakone Pirate Ship A large boat to cruise Lake Ashi. You can enjoy the magnificent view of Lake Ashi and the extraordinary onboard space decorated with French, British, and Swedish ships as models.
15:35-15:55 20(min) Onshihakone Park This park has a scenic spot overlooking Lake Ashi and Mt. Fuji. There was a Hakone Imperial Villa where royals and international VIPs were greeted, and the atmosphere and view here is known as the best in Hakone. Take a walk in the garden with nature and the clear air.
16:25-16:55 30(min) Hakone Shrine A shrine with a history of 1,200 years or more. In particular, the Torii (wooden gate) standing on the lake is recently getting popular as a place where you can take unique photos. The vermilion Torii in the clear blue color lake is such a fantastic view!
Remarks:[Conducting Company]
Otomo Inc.
3F Mitomi Building, 3-13-3 Hongo, Bunkyo-ku, Tokyo
[Reception Method]
At reception, please show your reservation confirmation sheet, a printout of the reservation confirmation e-mail, or show the e-mail on your mobile device screen to staff.
[Operation Conditions/Tour Conditions]
-If you do not arrive at the specified starting place after 60 minutes from the agreed meeting time, the tour will be considered canceled. (No Show100%)
-Entrance fees, transportation fees, meal fees, activity fees, etc.
(At least about JPY 6000 per person)
[Exemptions/Itinerary Guarantee: Itinerary/Destinations]
-Please note that transportation and spots may slightly change depending on the weather and climatic conditions.
-Please note that the waiting time for transportation becomes quite long during congestion and on weekends. Therefore there is possibility to shorten the stay time at each spot or skip some spots.
[Important Notes/Supplements: Meeting/Pick-up/Pick-up Location]
-Hakone Yumoto Station
-The tour guide will have a welcome board with otomo logo.
[Important Notes/Supplements: What to Wear/Bring]
Please wear comfortable clothing.