Private Tour - 1-Day Hakone Trip to Must-see Spots
Tour Code :

PV0011J4S
Departs from :

Hakone
Tour Brand :

Kanto (Nearby Areas of Tokyo) Walking Tour
change(s) from the previous year :
Price(Lowest) :

¥33,500 ~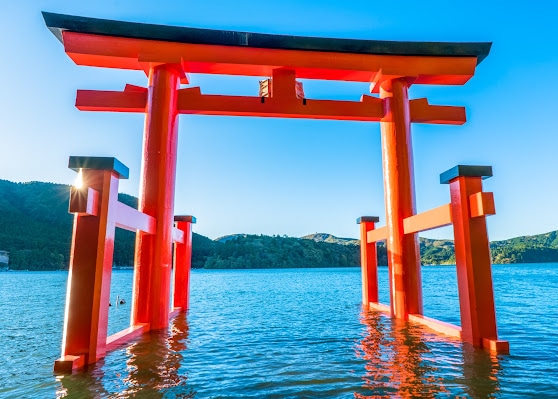 Overview :

1. Visit all the must-see spots in Hakone, a hot spring town accessible in a day trip from Tokyo.
2. Reachable from Shinjuku in 73 minutes at the fastest, Hakone is popular as a sightseeing spot offering a refreshing time amidst nature. What makes Hakone's scenery fascinating is the volcano that is Mt. Hakone. The popular spots Lake Ashi and Owakudani were formed from a volcanic eruption about 3,000 years ago, and to this day, Owakudani's fumarolic area exhibits pillars of white smoke. Mt. Fuji can be seen towering beyond Lake Ashi, creating a breathtaking scenery. Since ancient times, Hakone has been visited by many people as it is a midway point on the journey between Tokyo and Kyoto. Today, it continues to draw in visitors with its many places of interest such as a museum combining nature and art.
On this tour, look forward to exploring Hakone by Tozan Railway, cable car, ropeway, cruise, and bus. Hakone's must-see sightseeing spots are covered all in one day!
3. - Enjoy views of seasonal nature from the Tozan Railway train window.
- From the ropeway, get an overlooking view of the volcano's fumarolic area.
- Go on a lake cruise offering a beautiful view of Mt. Fuji.
- Feel free to visit a shrine with a torii gate floating on the lake.
4. This is a private tour that can be booked for 1 to 6 people. Customers can have an enjoyable tour with people they know at their own pace.
5. This tour promotes Eco-friendly efforts as stated under Sunrise Tours' Sustainable Development Goals.
Please check the following page for details.
http://jtbgmt.com/en/g-web/sdgs
Itinerary
day1

10:00- Meet at Hakone-Yumoto Station in front of Ticket Gate Hakone-Yumoto Station in front of Ticket Gate
10:05-10:15 10(min) Ajisai Bridge This beautiful vermilion bridge is a famous photo spot right near Hakone-Yumoto Station. Ajisai (hydrangea) bloom in June. The bridge was named such as Hakone is also known for hydrangeas.
10:55-12:40 105(min) The Hakone Open-Air Museum This art museum displays about 120 works from modern-day sculptors. The artworks are exhibited among the vast greenery, so feel free to take a photo as if you're part of the masterpiece. The scenery of the Hakone Mountains spreads out in the background.
12:55-13:30 35(min) Hakone Tozan Cable Car/Hakone Ropeway (Gora Station - Owakudani) Ride the cable car and ropeway one after the other to reach Owakudani, sitting at 1,044 meters above sea level. Aboard the ropeway, smoke from Owakudani enters your field of vision all of a sudden. You're sure to revel in the breathtaking sight. On clear days, enjoy the marvelous beauty of picturesque Mt. Fuji.
13:35-14:15 40(min) Owakudani Formed from an eruption of Mt. Hakone about 3,000 years ago, Owakudani is a valley where smoke can still be seen rising up here and there to this day. Unlike Hakone with its lush greenery, the rock surfaces here remain bare without any growing plant life throughout the year. Behold Hakone's iconic peak and feel the breath of the earth.
14:55-15:25 30(min) Pirate Ship This is a large ship cruising on Lake Ashi. Enjoy the vast panorama of Lake Ashi with an extraordinary cruise on a ship designed like French, English and Swedish ships.
15:35-15:55 20(min) Onshi-Hakone Park This park is a scenic spot offering views of Lake Ashi and Mt. Fuji. Once the site of the Hakone Palace built to host the Imperial Family and foreign dignitaries, this place is said to offer views of Hakone's best scenery. Take a stroll amidst the clear air in the garden.
16:25-16:55 30(min) Hakone Shrine With over 1,200 years of history, this shrine is associated with better fortune, economic fortune, luck in competitions, and relationships. The "Torii of Peace," a torii gate seemingly floating on the lake, has become popular in recent times as a unique photo spot. Gaze upon the mystical scenery of a vermilion torii gate reflected on the blue waters of the lake.
Remarks:Conducting Company: otomo Inc.
3F Mitomi Building, 3-13-3 Hongo, Bunkyo-ku, Tokyo
(This is not the meeting location.)
[Reception Method]
At reception, please show your reservation confirmation sheet, a printout of the reservation confirmation e-mail, or show the e-mail on your mobile device screen to staff.
[Operation Conditions/Tour Conditions]
- If customers do not arrive at the appointed time even when 60 minutes have passed, the tour will be considered canceled. (No Show 100%)
[Exemptions/Itinerary Guarantee: Itinerary/Destinations]
- The transportation method and sightseeing destinations may be greatly altered due to climate/weather conditions, etc. Thank you for your understanding.
- As there may be long wait times for public transportation during busy periods and on weekends, the time to be spent at each destination may be shortened or some destinations may be omitted. Thank you for your understanding.
[Important Notes/Supplements: Meeting/Pick-up/Pick-up Location]
- Hakone-Yumoto Station in front of Ticket Gate
- The otomo Inc. guide will be waiting holding a board with the otomo logo as an identification marker.
[Important Notes/Supplements: What to Wear/Bring]
Please wear clothes which are comfortable to move around in.
[Important Notes: Not Included in Tour Charge]
- Transportation expenses
- Admission fees
- Meal charges
- Souvenirs
- Experience fees
(at least JPY 6,000 in cash required for each person)