Kumamoto Tasting Tour: Guided Night Out to a Sushi Restaurant, Izakaya & Bar
Tour Code :

GU0001Q2S
Departs from :

Kumamoto
Tour Brand :

Kyushu Walking Tour
change(s) from the previous year :
Price(Lowest) :

¥12,500 ~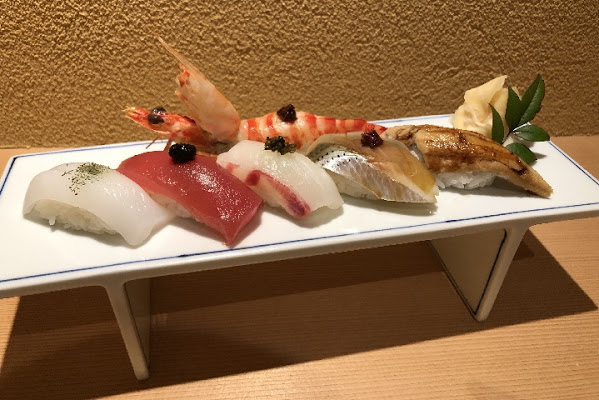 Overview :

1. Kumamoto is a treasure trove fostered by nature's blessings such as clean underground water, the Aso mountains, and the Amakusa Sea. Look forward to tasting exceptionally fresh sushi made with seafood caught from Ariake Sea and Amakusa Sea.
2. Head to an izakaya, a Japanese-style pub that's sure to satisfy everyone's tastes. After some recommended food and drink are served, the National Government Licensed Guide Interpreter will explain how people usually spend time at an izakaya the Japanese way.
3. For the last leg of the tour, customers will be guided to a hidden bar in Kaminoura.
4. Customers will be given a gourmet map that shows information on Kumamoto City's restaurants, souvenir shops, and accommodation facilities.
5. About Infection Countermeasures:
- Guides and assistants conduct health checks, and wear face masks throughout the tour.
- Infection countermeasures are in place at tour destinations.
6. This tour promotes Eco-friendly efforts and Cross-cultural Understanding as stated under Sunrise Tours' Sustainable Development Goals.
Please check the following page for details.
http://jtbgmt.com/en/g-web/sdgs
Itinerary
day1

15:50-16:00 In front of Kumamoto City Hall Front Entrance Please show your reservation confirmation sheet at reception. Please arrive at least 10 minutes before the departure time.
16:15-16:50 35(min) Sushi at Japanese Cuisine Restaurant Aoyagi (Counter Seat) Hand-pressed sushi is prepared with seafood from the Amakusa area within the prefecture, and the sushi restaurant is filled with the beauty of traditional Japanese decor. As an appetizer for the tour, enjoy 5 pieces of hand-pressed sushi skillfully prepared by the chef at the counter before your eyes.
17:00-18:20 80(min) Izakaya Experience at the popular Yokobachi Customers will be led to a well-known izakaya. First, 8 plates of Kumamoto specialties and 1 drink will be served. The National Government Licensed Guide Interpreter will explain about the menu, how to order, and how to pay. Enjoy your own time! At an izakaya, customers typically enjoy a 2-hour stay. Then let's head over to the next establishment.
18:30-19:00 30(min) Bar Miyamoto At this hidden bar in Kaminoura, customers can also enjoy chatting with the famous barkeeper. Includes 1 drink (shochu, Japanese sake, coffee, non-alcoholic drink)
-19:00 Tour Ends A Kumamoto City gourmet map will be handed out. This area is close to the hotel district. The way to the customers' hotel accommodation will be explained with the map, and the guide service ends at Bar Miyamoto. Enjoy the night in Kumamoto.
Remarks:Planning Company: JTB Global Marketing & Travel Inc.
Address: 2-3-14 Higashi Shinagawa, Shinagawa-ku, Tokyo
Japan Tourism Agency Registered Travel Agent (No. 1723)
A member of the Japan Association of Travel Agents
[Reception Method]
At reception, please show your reservation confirmation sheet, a printout of the reservation confirmation e-mail, or show the e-mail on your mobile device screen to staff.
[Operation Conditions/Tour Conditions]
- If the minimum number of participants (2) is not met by 7 days before the scheduled date, the tour on that date may be canceled.
- The tour will proceed even in case of rain.
- To prevent infection, please participate wearing face masks.
- On the day of the tour, a health check will be conducted. Those who do not feel well may not be allowed to participate.
- The above are subject to change depending on the infection status. Please be sure to follow the guide's instructions.
Please check the following for the most up-to-date information.
Website: https://www.sunrise-tours.jp/en/
[Exemptions/Itinerary Guarantee: Itinerary/Destinations]
- Itinerary locations and itinerary order may be changed depending on weather conditions and operating conditions of locations to be visited. Even when changed, the tour charge will not be refunded.
[Important Notes/Supplements: Regarding Children/Infants]
- Children younger than 6 years old will not be provided with meals. If preferred, please book under the Child rate.
- According to Japanese law, customers under 20 years of age are not allowed to drink alcohol. Orders will be accepted for non-alcoholic drinks only.
[Important Notes/Supplements: Regarding Meals]
- Vegetarian meals, Muslim-friendly meals, and allergy-friendly meals are not available.
[Important Notes/Supplements: What to Wear/Bring]
- A total of around 2 km will be covered on foot. Those who have difficulty walking on their own may not participate.