[2021] Toei Kyoto Studio Park Discounted Admission Ticket
Tour Code :

TK0001N4C
Departs from :

Kyoto
Tour Brand :

Kansai (Kyoto, Osaka, Nara, etc.) Entertainment / Sightseeing Ticket
change(s) from the previous year :
Price(Lowest) :

¥2,200 ~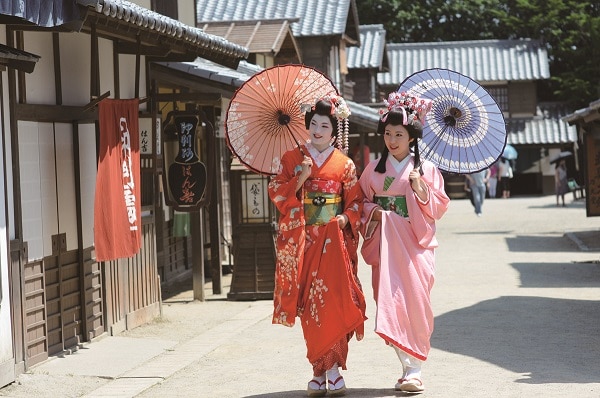 Overview :

1. Visit a theme park where you can experience the fantastic world of Japanese period dramas (jidaigeki films) first-hand through a variety of movie sets, shows, and attractions.
What's more, the normal adult admission price of JPY 2,400 is reduced to JPY 2,200 on this plan!
2. Travel back in time to the Edo Period (1603-1868)! Explore the movie sets created to replicate a traditional Japanese townscape, and experience the various attractions on offer.
3. Also enjoy visiting one of the many popular ninja attractions (additional charges apply) on offer. Everyone from kids to adults will surely have a wonderful time.
4. There are a number of shows and events complete with explanations in English.
Itinerary
day1

09:00- Enter Toei Kyoto Studio Park Please go to Toei Kyoto Studio Park on your own.
-17:00 Enjoy Toei Kyoto Studio Park Walk around freely and enjoy the attractions. Final admission is 1 hour prior to the closing time.
-17:00 Please head to your next destination on your own.
Remarks:Conducting Company: Toei Kyoto Studio Co., Ltd.
Address: 10 Uzumasa Higashihachioka-cho, Ukyo-ku, Kyoto-shi, Kyoto
[Reception Method]
At reception, please show your reservation confirmation sheet, a printout of the reservation confirmation e-mail, or show the e-mail on your mobile device screen to staff.
[Exemptions/Itinerary Guarantee: Itinerary/Destinations]
This is an unguided plan, so please go to the meeting location on your own.
Depending on operational circumstances, certain tour dates may be canceled, or tour operation may cease entirely.
The contents and times of shows and events may be altered, suspended, or canceled depending on weather and operational circumstances. Depending on crowding, these may not be viewable.
There are a number of shows and events complete with explanations in English. For more details regarding times and locations, please check the following website.
http://www.toei-eigamura.com/global/en/shows
English-speaking staff are available at the information counter located inside the studio park. Feel free to speak with staff regarding any inquires.
[Important Notes/Supplements: Meeting/Pick-up/Pick-up Location]
Toei Kyoto Studio Park / Customer's Preferred Time
Visit Toei Kyoto Studio Park at any time during park hours.
 *Hours may be extended during long holidays and summer holidays.
Hours are subject to change depending on the season. Please see the Toei Kyoto Studio Park website prior to visiting.
http://www.toei-eigamura.com/global/en/
Final admission is 1 hour prior to the closing time.
[Important Notes/Supplements: Facility Information]
Address: 10 Uzumasa Higashihachioka-cho, Ukyo-ku, Kyoto-shi, Kyoto
Access: About a 5-minute walk from JR Uzumasa Station, or about a 20-minute taxi ride from JR Kyoto Station.
Tel: 075-864-7716