Hiroshima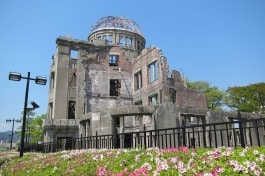 Hiroshima Peace Memorial (Genbaku Dome) / ©Hiroshima Convention & Visitors Bureau
Hiroshima is in western Japan. The Hiroshima Peace Memorial Museum located in Hiroshima Peace Memorial Park is the symbol of world peace.
The island of Miyajima, Japanese for "Shrine Island", is famous for Torii gate and Itsukushima Shrine which are built over water.
Hiroshima
For more information, please get in touch.