[NEWS] Typhoon #25 KONG-REY is approaching Japan this weekend.
2018.10.4
Dear our valued customers,
Thank you so much for your usual cooperation to us.
We are expecting another typhoon "Kong Ray" hitting Okinawa from today.
It has the same strength as the previous typhoon "Trami" and is going western part of Japan.
It is coming close to Okinawa, this evening, which means Okinawa will be affected by heavy rain and strong wind from tonight till tomorrow.
After that typhoon go northwest on Sea of Japan and will not expected to land on Honshu islands.
On next week this typhoon is expected to land north edge of Honshu island to Hokkaido.
The weather forecast says Japan main island will be cloudy and partial rains.
However the wind might be strong and we are carefully watching its movement.
In case there is any affection on the guests touring Japan this weekend, we will take a necessary action to keep the safe and will report you from our staff accordingly.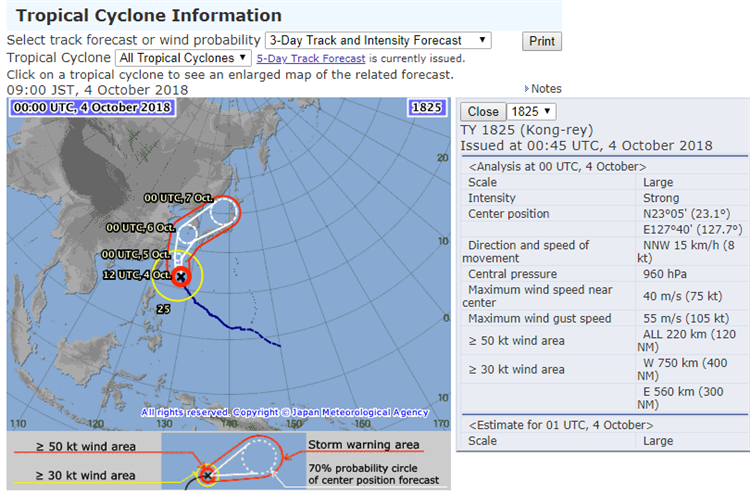 Based on "Tropical Cyclone Information" (Japan Meteorological Agency) (http://www.jma.go.jp/en/typh/)
You can check more details from Japan Meteorological Agency site.
http://www.jma.go.jp/en/typh/
If you have any questions or inquiries, please feel free to contact our staff.
Kind regards,
Webmaster
JTB Global Marketing & Travel Inc.
For more information, please get in touch.