[NEWS] Typhoon #24 TRAMI is approaching Japan this weekend.
2018.9.28
Dear our valued customer,
Thank you so much for your usual cooperation to us.
We would like to inform you that another typhoon 24 "TRAMI" is coming close to Japan and will be expected to hit Okinawa, Kyushu and Honshu main islands this weekend.
TRAMI is expected to approach to Okinawa this evening to tomorrow morning, crossing Kyushu island on Sunday, and will be expected to land on Honshu Island on Sunday evening. It will be coming very close to Tokyo early morning on Monday.
We are carefully watching the situation and influence on transportation or accommodation, and as for the tours who are staying in Japan. We will check the details and take a necessary arrangements. In this case reports will be sent from our operation team who are in charge of your clients.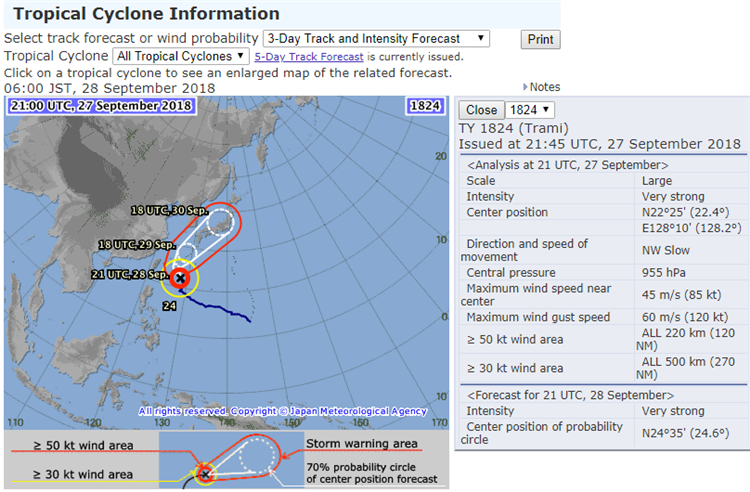 Based on "Tropical Cyclone Information" (Japan Meteorological Agency) (http://www.jma.go.jp/en/typh/)
You can check more details on the following site of Japan Meteorological Agency.
http://www.jma.go.jp/en/typh/

Kind regards,
Webmaster
JTB Global Marketing & Travel Inc.
For more information, please get in touch.