DESTINATIONS
Why JAPAN?
Japan is rich in every way. Blessed with abundant nature with four distinct seasons, there are wonderful landscapes all over the Japan. Being at the forefront of modern technology and at the same time possessing cultural and historical depth, traditional and modern cultures coexist. Wide variety of accommodations and gourmet, travel plans can be designed as you desire. Diversity of Japan makes Japan unique.
Japan is safe, clean and polite. Crime rate is exceptionally low. Public transport has extensive network which committed to punctuality and cleanness allowing comfortable access to major cities. Japanese are very attentive that their services are done with the greatest sincerity. Hospitality of Japan makes Japan different.
Discover the taste of Japan in every style with JTB Global Marketing & Travel Inc., Japan Top Destination Management Company.
Various cities and destinations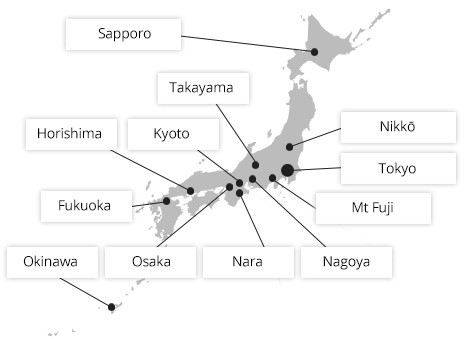 Japan Map
---
General information (External Links)